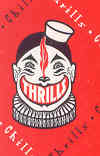 POETS CORNERED: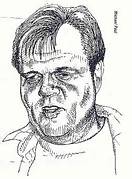 SCOTT WANNBERG is one of the most prolific poets alive. Words flow from him, absent of guile, rife with heart, metaphor (often having to do with great movies), and comedy. He has been a fixture at one of the last independent bookstores in L.A., Dutton's in Brentwood, for at least twenty years. It is with pleasure that The Rip Post brings you his colossal work. Read more about Mr. Wannberg here. (sketch by Michael Paul.)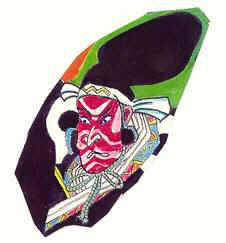 JACK OAKES

is a writer of singular insight, hard truth, and compassionate spirit. He is a keen observer of things grand and miniscule, of great designs and tiny beauties..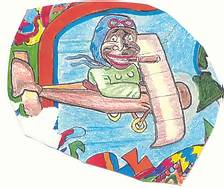 K. RENSE is a writer of playfulness, language both ornate and simple, abiding love of nature, endless wit (and wits' end.) He is working on a novel, "Rushes," in which a man sets out to determine if he was once a fish. (drawings by Rip Rense.)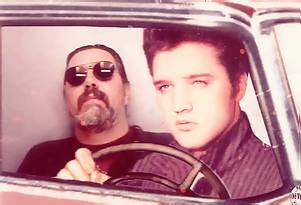 CHARLES BOGLE

(pictured with Elvis), whose last name means "a goblin who only harms liars and murderers," was a drinking buddy of W.C. Fields. He is not a poet, although he occasionally pretends to be.

All poems reproduced here are copyrighted to the authors and may not be reproduced without persimmons.

ARCHIVE

Wannberg:
Debutantes With Broke Down Teeth
In the Tired End of Town
The Bleeding Newsroom
The Hold Desk
Empathy Hoedown
May I Take Your Hat?
Enduring Prey
Strange Food Hoedown
Oblivion Highway Orchestra Rehearsal
Gypsies All
Painkiller
Someday I'll/Raise Your Everlovin'
Gov't. in My Cereal
The Hardest Hours
Some Dust Bowl, Some Champange/Accident Cathedral
Dancing Shrapnel Hoedown (for 2004)
Shrapnel for Everyone/Mustard Gas on a Kaiser
The Straightjackets Do Not Hold
A Pint of Whiskey Will Get You Through Part Five
Bongo Cathedral
For Bob the Cat, My Friend
The Long Playing Short End of Things
MORE SCOTT WANNBERG POEMS HERE!

Oakes
Weary
Explained
Entitled
What's Left?
Forget
Remembered
Form Games
Down That Road
After the Road
Is This?
I Walk
Dinner is Served
Running Out
Cheshire Moons
The Truth is Hard to Tell
Old Joe and the Rodeo
Like Keaton and Lloyd
If It's a Poem You Want
Atonement Poem
What's Best for Thee
The Force of Destiny
So It Goes
So It Went
The Word is Heard
Summing it Up
Conjuring Roses
Taking Stock
Time to. . .
Off the Grid
Get Right
Pure Joy
Spring
Hearts at Peace
I Feel Fine
The Ghostly Dead's Tunes
Babel Town
Do You Remember Your Old Tricks?
The Foolishness of What We Do
Crazy Old World
The Secret Places
Too Much 'Mas
To Thine Ownself Anew
Time is Running Out on the Old Twist and Shout


K. Rense
Holiday Cheers
If I Could Be Just Anything
Alee
And Raindrops Kiss the Gentle Brow
I Sat Upon a Shoreline Rock
Islets of Langerhans
Lawyer's Lament
Rejection
Birthday Cheer!
Nothing New


Bogle
Poem for 2006
Work of Art
Round The Bend
Poem for 2005: Get The Feeling
Hunter The Headless Thompson Gunner
Bert the Cat (for Terry)
The House (for Jeff)
Now This (poem for 2004)
Words Fail Me
No Madder The Hatter
Poem for 2003
Dickens Street
The Accumulated Knowing
Full of Stars
Poem for 2001
Out on a Limb
Noble Ubu
Poem for 2002
The Condoleeza Conga
Pig People
Joe Shinn is Turning Sixty
As
Scraping Illusion off of Ilusion
Memory of a Dream
Between a Pixie and the Sun
Poem for Jerry Garcia
Birthday poem

SPECIAL GUEST POEMS:

Saturday Nights at the Dellwood Pavilion
Home Cooking
Poem For Chernobyll
by Leslie Wolfe-Cundiff
Poem for Chuck Niles
Genius Needs Love
by S.A. Griffin
The Right Kind of Eyes
(For Hunter Thompson)
Dark Sky, Silver Linings
by Floyd Kucharski
It is the Death Machine
by Dennis Corp