Sweat shop then, now
EX-NEWS REPORTER PAUL WEEKS TOURS OLD NEWSROOM
by Paul Weeks
(Daily News Staff Writer)
It was a sweat shop at Pico and Los Angeles - even more than the one we left last on December 18, 1954.
We were there at the gracious consent of the current owners or lessees. So let's not ask Lu Haas to get up on the old city desk again and extol the benefits of the union shop. Maybe they already have one. We didn't ask.
Endless rows of sewing machines droned, each with a rod rising up from it like bayonets of marching soldiers, where once old Underwoods clattered raucously and someone was hollering, "Copy, boy. Copy!"
A handful of us - and don't for a minute think of us as the walking dead - had just come from Genio's in Burbank where the Old Farts Society had hosted a reunion of Daily News survivors. Rip Rense, son of the sports department's Art Rense, needed people, color and art for his assignment to write a memoir for the Los Angeles Times Sunday magazine.
Don's Bar and Grill was gone from the corner of Pico and Main - the place where Lee Goodman once said to me one too-early morning over Maud-the-cook's fried eggs, toast and coffee, "Paul, we just don't know what we want to do when we grow up." The hot dog stand across the street was no more.
There was no steak cooking on a hot plate back in the morgue off the city room, no phone call from Pat O'Hara on the DA's beat with a new lead on the Beulah Overell yacht bombing case. "Hello, dahling," he would always say - never gender specific.
The sweat was as pervasive as ever. The cloud of cigarette smoke wasn't, nor were the desks scorched by unfinished cigs. No one had gotten around to installing air conditioning. Walls had been torn out. The third floor, where Leslie sat in the slot of the copy desk to the other end where Ned Cronin ground out those sparkling sports columns, was humming, humming, humming, turning out garments galore.

(CONTINUED on Page 2, Col. 2)
WHAT'S INSIDE
Why a Daily News website?
A word from Rip Rense
PLUS:
The Daily News Story---
by Ralph Story, that is. . .
PLUS:
NEWSIES TOUR OLD DIGS!
AND:
HEAR "A Newspaperman Meets Such Interesting People," written by Daily News reporter VERN PARTLOW. Recorded by Pete Seeger.
Q&A'S WITH THE NEWSIES:
PAUL WEEKS
JACK JONES
LU HAAS
HELEN BRUSH JENKINS
(With sneak preview of documentary on
Helen's life, "Flashes of Light.")
ROY AND VIVIAN RINGER
MARY KITANO AND
DOUG DILTZ!
and. . .
CONVERSATIONS WITH:
JOE SALTZMAN, PROF OF JOURNALISM,
USC, ON WORKING CLASS JOURNALISM.
ROB WAGNER, AUTHOR OF "RED INK, WHITE LIES"---DEFINITIVE DAILY NEWS/L.A. NEWSPAPER HISTORY
and. . .



PHOTO GALLERIES!

THIS JUST IN:
"THE CAMELLIA FOREST"
TIM MCGARRY'S lovely essay about Manchester Boddy and Descanso Gardens.

"GALILEO AND ME"
DAVID FINE, author of "Imagining Los Angeles" (and former Daily News delivery boy) remembers the Daily News, and old L.A., in joyous detail.

HAVE A DAILY NEWS MEMORY?
E-MAIL us at rip@riprense.com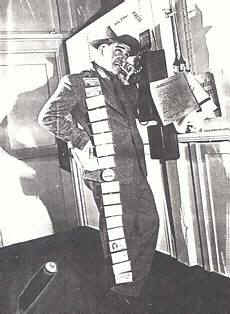 LU HAAS: BADGES? I DON'T NEED NO STINKIN' BADGES!

Website researched and assembled by Rip Rense.
by Will O' the Wisp
(Daily News Staff Writer)
Survivors of the original Los Angeles Daily News, for decades "The Only Democratic Newspaper West of the Rockies," reunited at the old building at Pico and Los Angeles Streets for an L.A. Times article.
Paul Weeks, Jack Jones, Lu and Jan Haas, Roy and Vivian Ringer, and Helen Brush Jenkins trekked downtown and back into the largely forgotten building---now a garment district "sweatshop"---for an article by freelance writer Rip Rense (son of Daily News sportswriter Art Rense.)
"Well," laughed Jones, who joined The News in 1949, "it was a sweatshop then!"
It was easy to picture the old city room, as so little had physically changed since the paper went out of business Dec. 18, 1954.
(FULL STORY on Page 3, Col. 1)
First Person
Veteran scribe Jones recalls copyboy days at Daily News
by Jack Jones
(Daily News Staff Writer)
During my earliest days at the DN, I was the early morning copy boy, which meant, as well as I remember, arriving in the city room at 4 a.m.
The late night city desk man was long gone by that time with the overnight police beat reporter at LAPD headquarters in the basement of City Hall (pre-Parker Center) responsible for keeping a finger on what was going on in the city crimewise.
The early copy boy turned on the lights in the city room, started the coffee brewing back in the far corner of the morgue, re- placed the exhausted paper rolls in the UP machines along the brick wall next to the picture desk, then telephoned early rewrite man John Clarke to make sure he was awake so he could get to the office by 5. (John had a bit of a drinking problem and would arrive with a thermos in his briefcase--along with a movie script he was always working on--that contained coffee laced with bourbon).
After phoning John, I had to take copies of the morning Examiner and Times and clip all local stories, placing the clips on the city desk so that Asst. City Editor Aaron Dudley, who was to get in at 5, would be able to flip through them and
(CONTINUED on Page 2, Col. 1)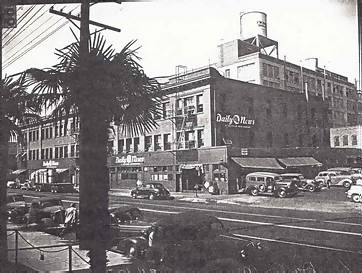 Looking west on Los Angeles Street toward Pico, mid- '40s. City room was on top floor, with the sports department at the corner; the second floor was all business and advertising; and the presses---which had a tendency to catch fire--- were on the first. The building, now a garment factory, started out as a car dealership in the '20s. When the presses rolled, the place shook like an earthquake. The paper was the opposite in spirit, content, and architecture of the pompous Hearst flagship, the L.A. Examiner, two blocks away. The News also shared office space---and breaking stories---with United Press.