RIPOSTE


by RIP RENSE
The Silver Stunt. . .

National Public Radio's Susan Stamberg called the new Disney Hall, home of the Los Angeles Philharmonic, a "symphony in stainless steel."
I say it's more of a concerto grosso.
Yes, stainless steel is just what I think about when I hear symphonies. Beethoven's rhythms inevitably evoke images of icy, sharp-edged asymmetrical hunks of dancing metal. When I hear Mahler, my heart soars with iron. Sibelius? I cry ferrous tears, and my emotions are tin-plated, leaden. Stravinsky? Nothing if not a hard, chunky, metalline experience. Favorite composer: Walter Piston!
L.A. Times architecture critic Nicolai Ouroussoff disagrees. He says that the Frank Gehry-designed $274 million tres chic Walt Disney Hall is "sexy," and that "nothing in this country," as he told the Sacramento Bee, "looks like that. No, nothing."
I dunno, Nic. Been to a wrecking yard lately? A sheet metal expo? Industrial refrigerator factory? As for "sexy," well, the last sexy metallic thing I remember was Ursula Andress's brass bra that fired bullets in "Casino Royale." Perhaps Mr. Ouroussoff was thinking of a type of uh, marital aid?
To me, Disney Hall looks like half-torn-up cardboard boxes left out in the rain, spray-painted silver. There are equally, if not superior, sculptures to be found on Skid Row a couple blocks away, where street people. . .tear up cardboard boxes and sleep in them (check their appearance after a rain.) Add one can of silver spray paint, and you've got hundreds of mini-Disneys.
Hmmm. . .Maybe that's why L.A. Phil Executive Director Deborah Borgia---er, Borda chirps, "This is your living room. Come visit." Maybe she's seen all the torn-up cardboard living rooms on nearby Main Street, and realizing the occupants' natural grasp of Gehry's architectural elan, thought she could attract some new season ticket subscribers! There must be some serious heroin money on the Nickel.
Wait a second! That's it. I get it now. Borda and the L.A. Phil brass---er, apologies to the horn section, make that administration---are forever blowing fortissimo about making classical music more down-to-earth and accessible for everyone! After all, the proposed sculpture outside Disney is a broken bow tie---nudge, nudge, get it? So Gehry must have taken his cue directly from Skid Row! He was emulating the down-to-earth (street-level, in fact) lean-tos and shanties of the homeless! He was making a $274 million statement about the poor and abandoned. This is Fanfare for the Common Crackhead!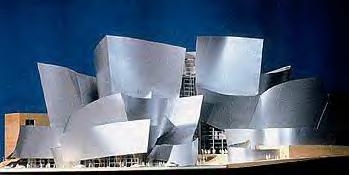 Disney Hall: Fanfare for the Common Crackhead?
Well, er, maybe not.
After all, there are 1,000 fewer seats(!) in Disney. Ticket prices have gone off the scale---somewhere above high B, as in "broke," which is what a new L.A. Phil ducket will leave you. Groundling slots are $35 (up from $14) with orchestra thrones at an impressive $120 (up from and impressive $80.) Of course, you can sit behind the musicians for $40 or $50. More accessible? This is your living room? Debbie, I can watch Daniel Barenboim conduct Mahler on a DVD in my living room for nuttin'. And the DVD costs less than Disney's cheapest bonerest.
And here's the bottom line, so to speak: I have it on good authority---from someone whose haunches have sneak-previewed the upholstery---that Mouse House has less legroom than the Pavilion. More cramps for your butt---er, buck.
Yes, the L.A. Phil needed its own dedicated concert hall, to free up the Pavilion for more opera. Well, that's the claim, anyhow. But they've taken a dignified edifice on an avenue named Grand, and exchanged it for a glinting stunt. Art for artifice. Gehry's slogan should be: Buildings That Try Real Hard to Not Look Like Buildings. In the process, a piece of L.A. tradition---a piece of home, for orchestra and audience---has been effectively razed. After a mere 40 years, the Pavilion was deemed orchestrally obsolete. The Disney isn't a symphony in steel; it's a symphony in steal.
But the Pavilion acoustics were terrible, Gehry proponents shrilled---led by L.A. Times Music Critic Mark Swed, who seemingly never let a review pass without complaining that Dorothy Buffum Chandler's dream house was "muffled," or just "not a good concert hall."
Right. Call me a Phil-istine, but thirty-three years of reasonably priced concerts at the Muffled Buffum made it into my ears without a problem. That includes the Brahms German Requiem I heard so clearly, as a kid, that I was reduced to tears; the twelve-hour Beethoven Marathon of 1971, the three years' worth of concerts I reviewed for the L.A. Daily News, Zubin Mehta's cathartic Mahler, Giulini's revelatory Brahms and Beethoven, the shimmering contours of Takemitsu, the twinklings of Ravel, the beguiling bombast of Berg, and the transfixing Bruckner 7th that Mehta conducted earlier this year, with its crushed, brooding angst. Even current music director Esa-Pekka Salonen's disinterested Beethoven and sterile Shostakovich, I'm sorry to say, were loud and clear. (And I often sat in the rafters.)
I mean, you'd think that the L.A. Opera, now the principal Pavilion tenant, inherited a bat belfry! Come to think of it, it has. Bats occasionally swoop and buzz concertgoers in the DCP (really!), so neglected has the Grand Ave. dame been in recent years, as orchestra management fixated on Disney. Her carpets are stained and worn, flaws in the ceiling go un-fixed, season after season.
All for the broken geometry next door.
That the orchestra played in the DCP only four decades (European halls go on for centuries) is really no surprise, I guess. L.A. is in a state of perpetual suicide. It is forever murdering the best of itself, often as not replacing it with the worst in all of us. Got a nice old landmark? Great spot for a hideous mini-mall. Dodger Stadium, perhaps the most pleasant pure ballpark in the country, has developers nipping at its heels like jackals on an antelope. This town eats its young. How Musso & Frank's and The Apple Pan have survived is beyond me. The only tradition in L.A. is to kill tradition.
But the Dorothy Chandler Pavilion did not deserve the character assassination it received from Swed and the cawing crows fascinated with the shiny object across the street. It served admirably well, without any complaints about acoustics from Mehta, Carlo Maria Guilini, Andre Previn, countless guest conductors, and listeners not cursed with ears that can detect carminative ants.
In an interview prior to Mehta's last appearance a few months ago, the conductor made some statements indicating bafflement over the criticism of the Pavilion---that, when he took over the orchestra there in 1962, it seemed like a Parthenon on the hill.
As far as I'm concerned, it looks all the more so, next to Gehry's Silver Stunt.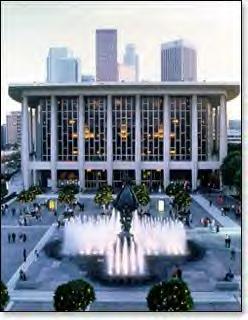 The Dorothy Chandler Pavilion
copyright 2002-05 Rip Rense, all rights reserved.

BACK TO PAGE ONE
BACK TO RIPOSTE ARCHIVE