RIPOSTE

by RIP RENSE
(June 19, 2017)
Sgt. Pepper Summer
So many are rhapsodizing about the new, improved "Sgt. Pepper," I just couldn't join the crowd. The Internet is writhing, contorting with think pieces (term sometimes used charitably)---about how the album "changed the world," "changed the face of music forever," blah blah blah. (Nothing about music's arms or legs.) The use of the word, "iconic" should carry criminal penalties. There have also, happily, been really fine articles, notably by Jon Pareles in the New York Times---who so correctly observed:
"We simply can't hear "Sgt. Pepper" now the way it affected listeners on arrival in 1967. Its innovations and quirks have been too widely emulated, its oddities long since absorbed. Sounds that were initially startling — the Indian instruments and phrasing of George Harrison's "Within You Without You," the tape-spliced steam-organ collage of "Being for the Benefit of Mr. Kite," the orchestral vastnesses of "A Day in the Life" — have taken on a patina of nostalgia. "Sgt. Pepper" and its many musical progeny have blurred into a broader memory of "psychedelia," a sonic vocabulary (available to current music-makers via sampling) that provides instant, predigested allusions to the 1960s. Meanwhile, the grand lesson of "Sgt. Pepper" — that anything goes in the studio — has long since been taken for granted."
(Pareles went on to say that the album is still "guaranteed to raise a smile." Also correct.)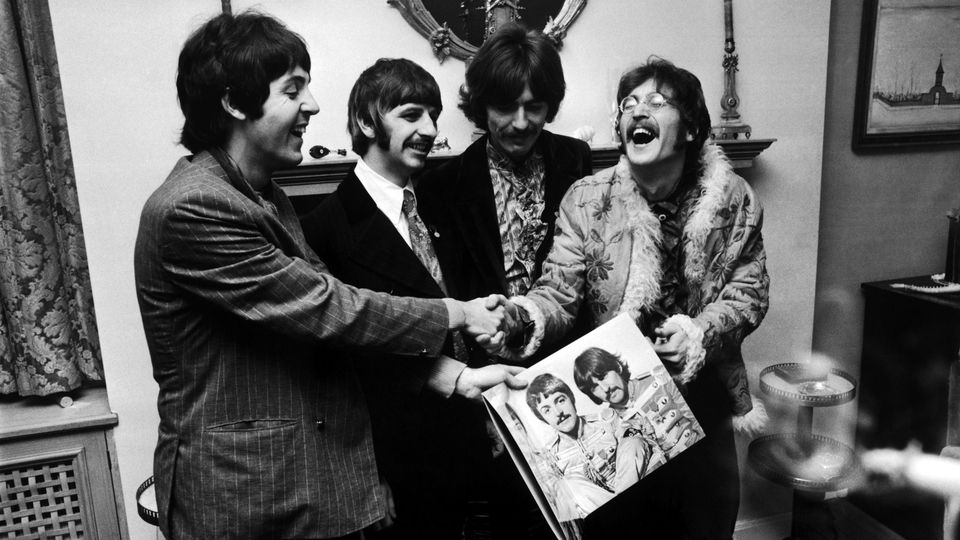 All the "Sgt. Pepper" anecdotes and history have been dusted off, with stragglers of the era declaiming both obvious and incisive things. Paul McCartney is yet again talking about Lennon adding "It can't get no worse" to "Getting Better" (yawn! yawn!). There have been dozens of almost embarrassingly delighted reviews from even the most caustic and self-important "music journalists" of the bowl-you-over new mix of the album crafted by Giles "Son of George" Martin. ("Almost humiliatingly positive," is how Martin put it.) There has been chronicling of the album's very complicated, duly legendary, invent-as-you-go recording process, previous stereo/mono/CD incarnations, plus more weighty matters such as whether McCartney grew his moustache for style or to cover a car accident scar.
What could I add? My two cents wouldn't fatten the purse. Yet I've written about The Beatles for much of my life, and am a longtime contributing editor to the Beatles publication, Beatlefan, produced faithfully since the '70's by an affable Atlantan named Bill King.
And, yes, it is the 50th anniversary, chillingly enough, with a new mix and outtakes. Fifty years! And I'm still here. And I was there. I'm here, I was there, articles are everywhere. . .Therefore I write. . .
Pareles's statement about how one can no longer hear "Pepper" as something new---that context being so vital to appreciating the album---got me thinking about what it was like to hear the record when it was. . .something new. At least for me. And so, parting the mists of time. . .
I lived in a sage-scented snow globe of a country town called Thousand Oaks, California, at that time home to maybe 18,000 people and many more coyotes, raccoons, road runners, buzzards, rattlesnakes, poppies, lupines, chaparral. I lived in the proverbial house on the hill, a modest 1959 affair overlooking the whole "bedroom community," which for my purposes was the whole world. I'd visited Law Sangeles a few times, but it might as well have been Oz.
This was a place of bicycles and the kids on them, oak trees and the kids in them, sun-pounded blacktop basketball courts and stuffy school classrooms where "the girls" were privy to a whole lot of secrets that "the boys" had no inkling of. The sky was gigantic, the days sprawled, especially in summer, when I kicked around in cutoff jeans, stained T-shirt, Converse All-Stars. I was gangly, I was pimply, I was thirteen. High school loomed.
I should mention that I was also fairly troubled, with every bit as much self-worth as a tree stump, result of years of psychological abuse by what will be termed a "malevolent presence" in my home. If I get any more specific, I have been told that said presence will sue me. Really. After fifty years!
One Sunday in early June of 1967, my father and stepmother decided to drop in on one of my older brothers for a few minutes in Isla Vista, a sleepy student hamlet adjoining idyllic, seaside University of California, Santa Barbara. I was allowed to accompany them, never mind my stepmother's strange, open aversion to my having contact with my brothers. From the back seat of the '64 1/2 Mustang, I was shocked to see that a lot of students living in IV had long hair, sometimes really long hair, often with flowers in it. (My own greasy hair was clumsily policed by my stepmother into a sort of POW look.)
Neat-o!
"Before you go, Pop," said my brother at the end of the perfunctory visit,"you've got to hear a little of the new Beatles album. You won't believe it. They've become this other group, 'Sgt. Pepper's Lonely Hearts Club Band.'"
What? The idea of The Beatles having a secret identity tripped no more than two or three million Superman comics-primed synapses. Sgt. what? He dropped the needle on a tiny stereo inside the tiny single apartment he shared with a roommate, and I heard the beginning of the album for the first time.
An audience. A searing guitar. McCartney screaming, "It was twenty years ago today, Sgt. Pepper taught the band to play," and. . .what? French horns? How funny. If I'd known the word, "wry," I would have used it. What were they up to? The act you've known for all these years. . .poking fun at their Beatlemania-drenched selves, were they? Lonely Hearts? The most pursued four men on earth? Har! Then Ringo began singing---Ringo singing the first song on the record?---and my old man said, "Okay, got to go." That was it.
But that snippet of "Sgt. Pepper" followed me, as did the beautiful, bizarre album cover that electrified every neuron in the part of my brain handling "curiosity." I'd never paid much attention to album covers (except that Herb Alpert and the Tijuana Brass album with the woman slathered in whipped cream) and compared to this new Beatles record, neither had record companies. There were the old moptop Beatles off to the side, the day-glo new Beatles in "hippie" military garb, soberly taking their places among great figures of art, science, history, music, movies (including my heroes, W.C. Fields and Laurel and Hardy). . .The colors of those burlesque soldier uniforms: electric aqua, hot pink, a green that I didn't know existed in nature, neon fuchsia. Neon fuchsia? A daisy planted on top of Lennon's epaulet. Those weird "old lady" glasses. . .
What in the Alice had happened to The Beatles?
A couple of weeks later, a large brown UPS panel truck pulled up outside. Screenk, thunk, and the emergency brake's click-click-click-click cut the typical quiet of the day. I stared, uncomprehending. You have to understand that our house was very hard to find, at the top of a long private driveway past several other homes. The only cars that ever showed up were ours, or people who had made a wrong turn trying to get to a monster church built almost in our backyard. To see a UPS truck outside was just not too far from a UFO landing. I mean, this was, "Granny, get Jethro out of the cee-ment pond and tell him there's a train that ain't got no track outside!"
But there, one searing 90-degree golden-field pre-summer day, when I had been home alone, watching stupid morning game shows, probably waiting to ride my bike to the high school gym or pool, was a UPS truck. From the May Company, all the way in Law Sangeles. I told the dog there was no need to go berserk (fell on deaf ears), and opened the front door. A man in a brown uniform approached and asked me to sign for a package. Sign for a package? Like they do in the movies? Me? Okay, I signed, and a large, flat, heavy piece of cardboard was handed over.
For some reason, I dared to open it. Either curiosity overwhelmed, or it was addressed to me, the one who would be home, I no longer recall.
Life is funny. (You may quote me.) Only looking back are we able to ascribe relative importance to events. I would never have believed that the contents of the package would form a sort of pivot point in my life, let alone society's.
"Revolver" was on top, and there, underneath, was it: "Sgt. Pepper's Lonely Hearts Club Band." I've never received anything with a fraction of the thrill. Not as good as ten-foot-tall paisley aliens tap-dancing and singing "Hello, Dolly!", but it was close. The albums were not intended for me, specifically, or maybe they were. It was never explained. Stepmommie was ever looking to be au courant (the Mustang was one of the first bought in Southern California), and The Beatles' new album was the talk of the world. My good fortune.
I should point out that we didn't have many records, and that my old man bought most of them, from opera to Caribbean steel band. I'd prowled the new House of Sight and Sound in town on occasion, but it was outside my reality that I might actually purchase and own a record. That was adult stuff. Yet here were two in hand, heavy and real. I sat and stared at both of them, reading every word available (the lyrics to "Pepper" were printed on the back---unheard of) before proceeding.
One thing my father did right was the stereo. It was, for its time, a monster. I slipped "Revolver" on first, because it had been done by The Beatles first, and hell, I respected artistic integrity. I'd devoured this arresting record while visiting my brother in Isla Vista over Easter Vacation. His roommate had "Revolver," "Rubber Soul" and "Yesterday and Today," none of which I had heard before, and I played them over and over. Also: and over. Un-toppable!
At last I put "Pepper" on the Garrard turntable, turned the volume to seven out of ten, and, well, to quote from "Lucy in the Sky With Diamonds," climb in the back with your head in the clouds and you're gone. Alone on the top of the hill in Snow Globe Town. Me. And The Beatles.
Lend me your ears and I'll sing you a song. . .we hope you have enjoyed the show. . .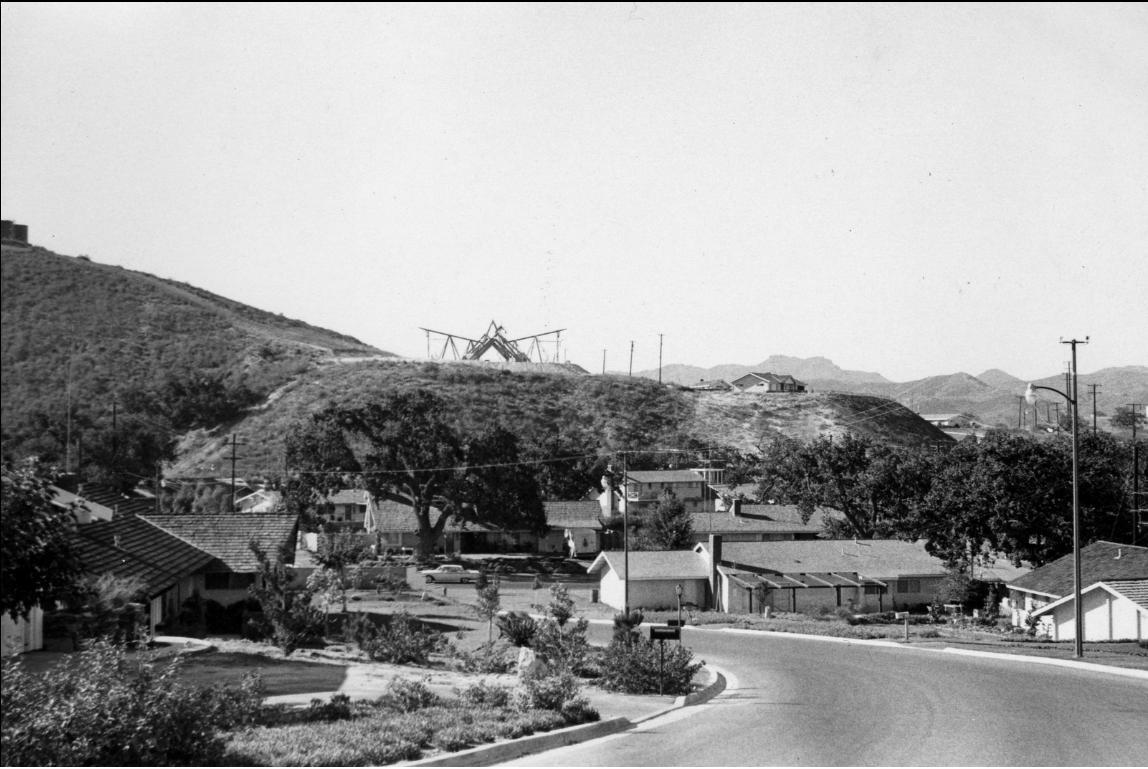 The house on the hill (right), a couple years before Sgt. Pepper Summer. Note gigantic church under construction behind the house. (Click to enlarge.)
All those recently analyzing the album's greatness, comparing it with other Beatles albums (yawn), asserting that the songs are trifles (gawd). . .just tragic. Talk about missing the point. Talk about not seeing the forest for the tangerine trees. . .This was a scintillating, sparkling, stunning, wholly unexpected message of goodness, invention, exuberance, joyfulness, color, élan. A telegram from possibility. Newness. It zinged and exploded and twinkled and roared. It ruminated and brooded and dreamed and chuckled and wept and existentially mused (though I only intuitively knew what existential musing was at the time.) Small wonder they had spent five or six months recording it.
I mean, what were the instruments that could produce such sounds? I had no idea whatsoever---no idea that The Beatles had almost miraculously developed their own new orchestral and musical language of harpsichords, organs, backwards tapes, altered voices, augmented pianos, oom-pah bands, music hall combos, muffled drums, paper-covered-combs, bass harmonicas, other-worldly things called sitars, tambouras, tablas, swarmandals.
And the imagery! Plasticene porters with looking glass ties. . .4000 holes in Blackburn, Lancashire. . .everyone you see is half-asleep, and you're on your own, you're in the street. . .I used to be cruel to my woman, I beat her and kept her apart from the things that she loved. . .She goes downstairs to the kitchen clutching a handkerchief. . .And of course, Henry the Horse dances the waltz. . .
It was the musical equivalent of a kid kicking clods in 1890 Salina, Kansas when his first circus came to town. This was such a profound Great Leap Forward, even from the experiments of "Revolver." So much depth, so much texture, so much detail, so many new sounds, orchestrations, layers; not a moment devoid of sheer, riveting vivacity, invention. Songs fairly exploded out of the speakers with whimsy, laughter (sometimes literally), flights of fancy, poignancy, campiness, reassurance, disassociation, musing, reflection, contemplation, touches of irony.
These were Beatles? These were yeah yeah yeah Beatles? These were the pot-smoky folkies of "Rubber Soul?" The backwards-tape explorers of "Revolver?" Yes, these were Beatles. Wizard genius Beatles from Beatitude. By way of Wonderland.
Consider "Within You Without You" alone. The song froze me in the overstuffed living room chair, not just for its transfixing, eerie melodies, but for the philosophizing. Who knew that Harrison was actually a thousand-year-old yogi? I sat, wide-eyed, listening to things that I also felt, even at that age, though could never have articulated. We were talking about the space between us all / and the people who hide themselves behind a wall of illusion / never glimpse the truth. . . We were talking about the love that's gone so cold / and the people who gain the world and lose their soul / they don't know, they can't see, are you one of them?
This guy knew. The truths in that song are as fresh and profound today, and even more urgent. What an epiphanal moment was this for young George (small wonder Lennon thought it was the best thing he'd ever done.) Realizations so succinctly, poetically put, the melodies so original, ethereal, somehow almost. . .ancient. Geese walked on my arms during the line, "And you'll see you're only very small and life goes on within you and without you." (Decades later, when I sat down to interview Harrison, I was almost too tongue-tied to speak. This is the guy who wrote "Within You Without You," my brain kept headlining.)
And then, "When I'm Sixty-Four?" Some juxtaposition. Who knew that McCartney was actually a '20's dance hall bandleader? (The song was one of the first he ever wrote as a kid, certainly influenced by the taste of his dad, who was a '20's dance hall bandleader.) McCartney's presence was heroic throughout the record, from the "Sgt. Pepper" opening to the (acid-inspired) declaration of independence, "Fixing a Hole" (with harpsichord, of all things, as the defining instrument), to the tender, poignant "She's Leaving Home" (scored for harp and strings!) to the wacky, mildly pornographic anthem, "Lovely Rita," a love song to a parking cop (!). Not to mention his keyboard part on "Lucy in the Sky With Diamonds," his coaching of Lennon's vocal in "Being for the Benefit of Mr. Kite," his astoundingly lyrical bass parts that were themes unto themselves. . .
Speaking of "Mr. Kite," to quote the Jabberwock, "O, frabjous day" it was when Lennon told George Martin he wanted to "smell the sawdust" and "taste the atmosphere" of a circus, and create "swirly" music. Lennon trusted Martin's invention, as he did on "Strawberry Fields," and later on "I am the Walrus," and the delegating paid off. What we now know as tapes of calliopes and Sousa marches cut up, thrown in in the air, and patched together willy-nilly, was just the most frabjous stuff anyone could have wanted, and the most frabjous music I'd ever heard. I mean, it really "came whiffling through the tulgey wood." You could see this music, in shards and swoops and glitter and gurgle and a ton of what-was-that?, tumbling out of the speakers and yes, swirling, through the room.
"A Day in the Life?" Well, gasp. The laconic, dreamy Lennon poetry of it, bracketed by the rather frightening suggestion, "I'd love to turn you on," an utterance so controversial then as to be banned from radio. The Varese-like orchestral cataclysm the followed, and that ended the proceedings (McCartney's idea), well, what in the world was it? A cliche today, thank you popular culture, but earthshattering, skull-stunning then. The Bomb? The void? The answer? To my ears, trained on classical radio, the part where Lennon's disembodied voice floats around after McCartney's brilliant "middle eight," eventually transforming (via George Martin) into a massive, almost Wagnerian orchestral climax, well, that was the stuff.
And yeah, I'm sure I was among hundreds of thousands (millions?) who cranked up Ringo's big fat four-four drumbeat coming right after all those different animals appeared, chewing up and swallowing the remains of Lennon's ironic "Good Morning Good Morning." One. . .two. . .three. . .four. . . ((It hadn't been funny enough to just have a rooster crowing on the thing, a la the Kellogg's Corn Flakes box, you see.))
This was not just another collection of Beatles songs. This was a work, an opus, a de facto suite. The same ethos, the same priorities, applied to every minute on the disc: experiment, let the limits of thinking be the limits. It was all one splendid, uncontrived, unjaded idea, or perhaps better to say, idealism.
I played "Sgt. Pepper" daily. If no one was home, several times. I eventually played it every morning before school that fall, at volume so low that only I and my dog could hear it (yet prompting my stepmother to emerge from her bedroom, telling me to turn it off, hissing "Why are you listening to that!") Yes, "Sgt. Pepper" was a badly needed injection of good stuff at a time when I needed it, but more than that, it was suffused with an implied message: nothing need be drab, predictable, rote, suppressed, oppressed. Imagination, freedom, are all. Wear neon fuchsia, at least in your mind.
Later that summer, the so-called "Summer of Love," I was so lucky to go back to Isla Vista. Alone. My stepmother protested to my father, "He'll just think he's back home with his brothers," but the old man sent me, anyhow, probably figuring it was good for all concerned. Both my brothers indeed lived in I.V. at the time, and to be reunited with them was sheer heaven, as my stepmother had apparently feared. I mean, they liked me.
The heaven metaphor, by the way, extended to the general surroundings. . .
All up and down the tar-smelly I.V. beach, all up and down the flowery, succulent stuffed, brine-perfumed little streets, under the shaggy old eucalyptus and Torrey pines (and sometimes living in them), were hippies. Today, that conjures all sorts of ridiculous stereotypes, of course, but to me, these were just nice people---the nicest I had ever encountered, in fact. They were quiet, soft-spoken, gentle, approachable---UCSB students, for the most part. They lived in cheap rooms and read mountains of books and smoked mountains of dope (which did not contain brain-freezing levels of THC in those days.) They wore wonderful amalgams of patterned India gauze, Guatemalan print shirts, bell bottom jeans augmented with hand-stitched paisley hems, bandanas, panchos, Guayabera shirts, huarache sandals, flowing skirts. They streamed nightly to the edges of the cliffs, patchouli in their wake, to silently watch the sun collapse, or fade, or melt, or go phantasmagoric into the smooth Pacific. And everywhere I walked in Isla Vista, at all times of day and well into the night, in fog and in sun, they were listening to "Sgt. Pepper." It was almost never, never out of earshot, here from an apartment, there from a house. The Beatles were all around, everywhere you went, with that twinkly, sparkly, unadulterated, revolutionary exuberance.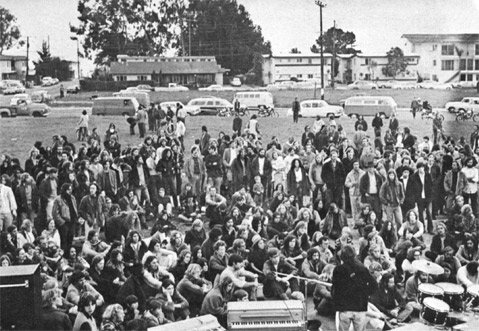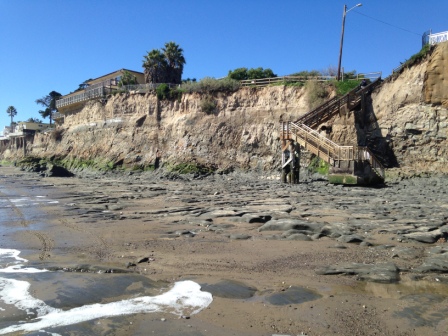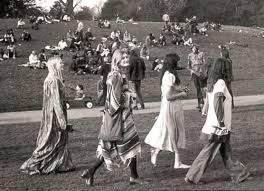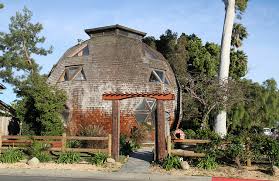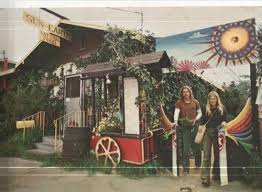 Isla Vista in the '60's, or approximations thereof.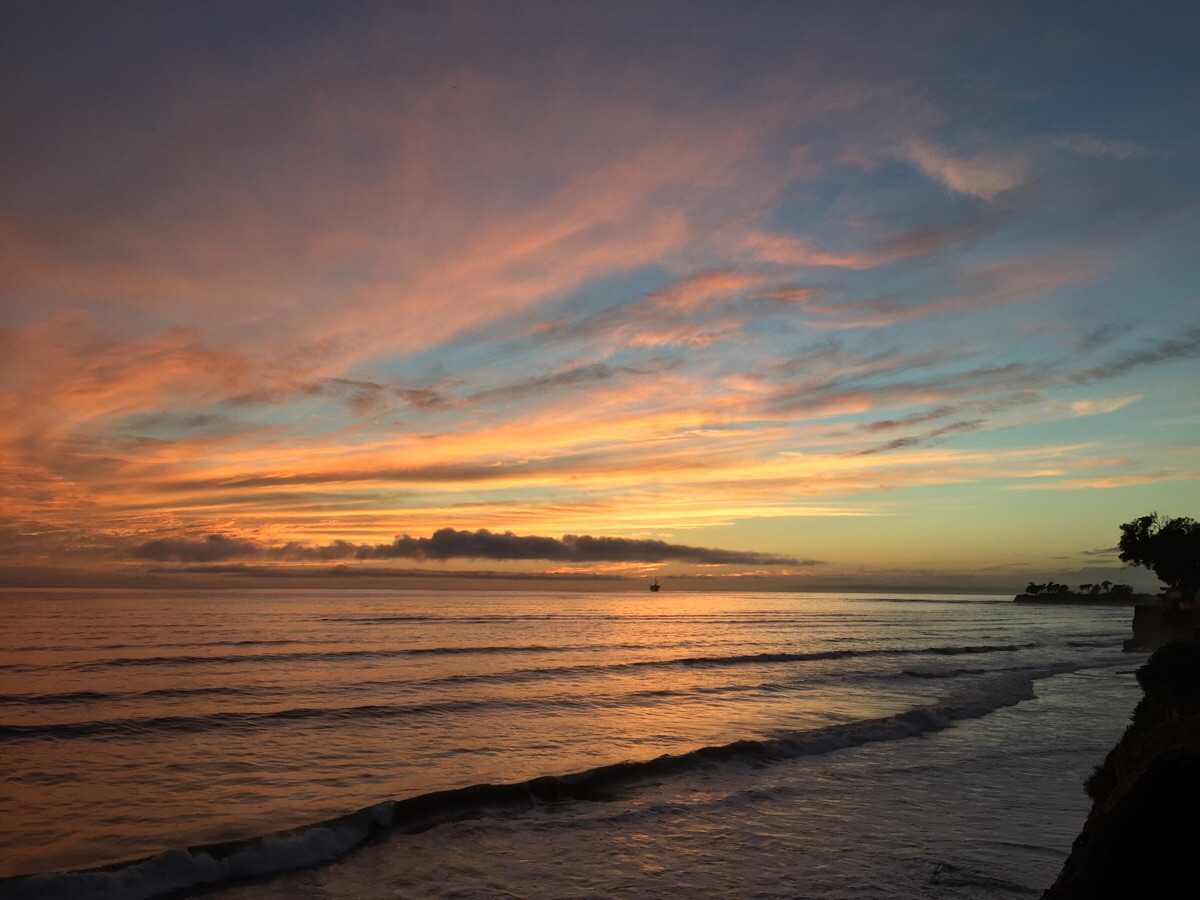 It was against this Sgt. Pepper Summer backdrop that something, well, it's hard to find the words for it. How to describe the feeling of a rescued dog treated with care, kindness, love for the first time? Perhaps that's too dramatic, but I'll stick with the analogy. Some of these "hippies," these nice people, went out of their way to be kind to my wretched, introverted being that summer, to not dismiss my opinions, but solicit them, to not force me to stay in my room, but to take me for walks on the beach. . .to. . .make me feel like a human being. It didn't take much. You want to be a writer? What kinds of things do you write? What kind of music do you like? Have you read this book? Here, take it. You like Steinbeck? Good morning, Ripper. . .
Then there was my oldest brother's house, where I stayed. This was a faded pink, '20's-vintage, knotty pine-paneled rambling series of funky rooms planted on the cliff above the sea, right beside the sunset-viewing vacant lot. The lone walkway down to the beach was also outside, with its steady trickle of surfers, dogs, bikinis, acid-trippers staring at oranges. The doors of this unassuming enclave, this free-spirit retreat, were usually left wide open, the floors creaked endearingly when you walked, and ever-new batches of kittens scampered and hid. At night, branches of the giant cedar in the backyard caressed the roof, shoosh shoosh, and the dull thunk of the breakers below put you to sleep. Magic.
I walked on the beach a lot, both with with my brother and alone, collecting tons of shells (which I still have, in the same brown bag I first put them in.) One of my brother's girlfriends and her kid sister (my age!) walked with me one day, asked me about myself, and so on. They were not repulsed! They accepted me, zits and all. Would you believe in a love at first sight? Yes, I'm certain that it happens all the time. I was over the moon in love with both of them, of course. . .
No one had really done these things before, understand, not that I can recall. Quite to the contrary, I had long been made to feel that my thoughts, ambitions, feelings were wrong, stupid, of no importance or interest. To be treated so decently, I now realize, planted the seeds of resolve to tolerate nothing less. . .
As did The Beatles:
Something inside that was always denied for so many years. . .Holding me down / Turning me 'round / Filling me up with your rules. . .You gave me the word / I finally heard. . . A little better all the time (It can't get no worse). . .
It wasn't overt, of course, it was subliminal, a suggestion. I didn't relate these words directly to my life; they slipped in among my neurons and cajoled my subconscious. What was overt, an injection of wonder and inspiration equal in impact to "Pepper," was my oldest brother introducing me to Beethoven's 9th Symphony, the "Ode to Joy." As I sat, listening to it on his massive speakers (appropriated during the redesign of a local theater), I copied down the words from the album notes so I could sing along in German. Alle Menschen werden Bruder wo dein sanfter flugel weilt. . .All men are brothers under the protective wing of joy. . .
"Sgt. Pepper". . ."Ode to Joy," the hippies, and The Beatles in the air.
I get by with a little help from my friends. . .I've got nothing to say but it's okay. . .And it really doesn't matter, if I'm wrong I'm right, where I belong I'm right. . .We were talking about the space between us all and the people who hide themselves behind a wall of illusion. . .. . .Freude schooner Gotterfunken, Tochter aus Elysium. . .
And so did these fellows on the other side of the world---these musical conjurers lit from within---and their producer and engineer, create a kind of zeitgeist, catharsis, that touched the lives of millions, and the culture at large. And me.
Sgt. Pepper Summer it was.
In years to come, I played the album into such familiarity that I eventually wore it out, finally listening no more than once a year in a kind of failing effort to keep it fresh. For everyone had originally figured that "If this is what the Beatles did this time, imagine what's coming next." Well, there was great music to come, but the end of the sonic alchemy came all too soon, and all too sadly. There was nothing afterward that matched---that could have, or perhaps should have matched---the electricity and breakthrough of "Pepper."
Yes, I bought the new 2017 mix of the album, this fresh realizing of the old tapes, with technology more matched to the sophistication of the original music and vision. It arrives, as did the original "Pepper," at a troubled time in the world, though today's troubles are exponentially worse than Vietnam and civil rights. The entire ecosystem is imperiled by aspects of human behavior that are as far away from the inventive spirit that infuses "Sgt. Pepper" as can possibly be. It's almost as if "Sgt. Pepper's Lonely Hearts Club Band," in all its new, vastly larger clarity, volume, depth, detail, color, has come back to shout possibility and joy to all the hearts made so lonely by the exponentially greater cynicism, malice, unconscionable greed, brutishness, evil rampaging the world over. We were talking about the love we all could share / when we find it / to try our best to hold it there / with our love, we could save the world / if they only knew. . .
Of course, few will see it that way. Most are simply enjoying the oomph of the new realization, (especially Ringo, whose drums are at last big and full), or are busy debating the album's "greatness" (while being largely oblivious to its. . .greatness.)
For me, "Sgt. Pepper Summer," or ghost of same, has returned; a bittersweet echo, a lovely, unexpected visit from a very old and important friend I never expected to see again. I've got nothing to say but it's okay.

BACK TO PAGE ONE