RIPOSTE

by RIP RENSE
SAVE SWEET JOE
(Aug. 12, 2009)

I like Natalie Cole. She's a fine singer, and deserves all the accolades and success she gets. It's tough being the artist offspring of a great artist. I was sorry to hear that she had Hepatitis C, even if she did contract it through drug abuse. I was sorry to hear that the treatment for Hepatitis C apparently wrecked her kidneys, and that she needed a transplant.
And my heart went out to her when she went on "Larry King Live" to ask for an organ donor. It was amazing to see King instantly hand her a bunch of e-mails from viewers who wanted to be tested for a possible match.
I found it even more amazing that the family of a deceased fan, soon after the "King" appearance, asked that their loved one's kidney be given to Cole. This took place last May with apparent success, and in the nick of time, as Natalie's was running out.
Just like Joe Russell's.
Who?
Now, Joe Russell is a singer with a much longer history than Natalie Cole. He's performed for far more people than she has, or possibly ever will, and he has one distinction that Natalie will never have: he's had to work as a butcher when gigs were slow.
"Oh, yeah, baby, I'm still doing the butcher job. I went to school for it a long time ago," said Joe.
You won't be seeing Mr. Russell on "Larry King Live." Except for this column, you would have no idea that he is badly in need of a kidney. Why not? Two reasons: he isn't Natalie Cole, and he hasn't been asking for help. Until now, that is, his fifth year of three-times-a-week dialysis. His fifth year of the seven-year wait for a transplant. Five years, four or five surgeries, a cane, and counting.
"I was going to announce in concerts to everybody what my condition was, as far as needing a kidney," said Joe, reached in a New York hospital, where he later underwent successful bypass for a leg artery, and amputation of another toe.
"But you know," he continued, "I didn't do it. I keep forgetting! I get so caught up in the music. And sometimes I just don't want to reveal my condition. Might be proud or something, or stupid. I just haven't publicized it. But now I think it's time to go ahead and let folks know that I need a kidney."
While you probably haven't heard of Joe, it's likely you've heard him.
Seventy-year-old Joseph Jesse "Sweet Joe" Russell has, since 1964, been the booming, clarion tenor (and occasionally falsetto) harmony of easily the most important pure singing group in modern American history, The Persuasions.*
Oh, yeah, you know them, right? Uh. . .no, sir, sorry, you're thinking of The Temptations. . .no, ma'am, that's The Impressions. . .no, brother, you probably were thinking of The Persuaders. . .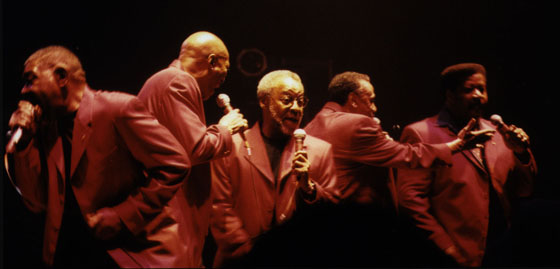 photo by Valerie Ramos-Ford.
The Persuasions, on tour with Bob Weir and Ratdog, 2002. L to R: "Sweet Joe" Russell, Ray Sanders, Jayotis Washington, Jimmy Hayes, Jerry Lawson.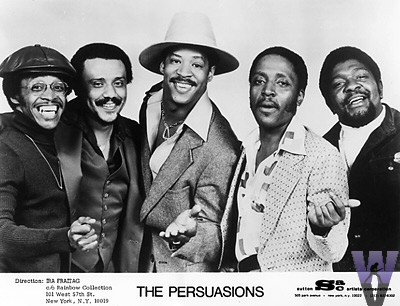 In their prime, in the '70's. L to R: Washington, Hayes, Lawson, Rhoad, Russell.
A lot of people think they know The Persuasions, but it's really mostly the hard-core Persuasions Heads who do. The ones who have bought every one of their 25-or-so albums. The ones who remember hearing them sing the old "Dr. Demento Show" theme song in the early '70's. The ones who sometimes go on the road and follow them from gig to gig, like Deadheads. The ones who, such as senior world champion weightlifter Floyd Kucharski of Kingsford, Michigan, show devotion in rather extreme fashion---like tattoing The Persuasions' motto, "Still Ain't Got No Band," on a bicep.
The five original Persuasions---street singers from Brooklyn---were the guys you might have heard singing "Chain Gang" on every FM station in the early '70's (their only "hit"), the guys you might have seen backing up Joni Mitchell on her legendary "Shadows and Light" tour (hear Joe's falsetto), the voices doing the great rendition of "Papa Oom Mow Mow" in "E.T." (Joe doing lead vocal), the group whose astonishing 1977 album, "Chirpin'," was named one of the top 100 of the decade by Rolling Stone. (Russell's solo rendition of "To Be Loved," which closes the record, is one of the most powerful moments in the group's recorded legacy. Listen here.) The a cappella masters whose work elicited this comment made to me by the great Tom Waits:
"These guys are deep sea divers. I'm just a fisherman in a boat."
And who, with the loss of one and the addition of two others, recently came back from career doldrums to release a multi-award-winning children's album, "On The Good Ship Lollipop," and critically acclaimed tribute albums to Frank Zappa (who signed the group in 1968) and the Grateful Dead.
The abiding problem with The Persuasions is that they were a cappella---largely during a time when the only other a cappella groups consisted of semi-eclipsed gospel greats like the Fairfield Four. Well, The Pers came from gospel roots---Sweet Joe learned to sing in church in North Carolina, credits the Dixie Hummingbirds as a prime inspiration---but this "band" was secular, eclectic, and utterly electric.
If The Persuasions' live '70's performances are ever released, there will be rediscovery think-pieces in the New York Times. To hear their bootleg performance of Delia Gartrell's terribly important, and substantially forgotten, anti-war song, "See What You Done Done," with stunning lead vocal by Jerry Lawson, is to invite raised eyebrows and hackles. To examine a repertory that includes, in part: Sam Cooke, Frank Zappa, Kurt Weill, The Temptations, The Beatles, The Oak Ridge Boys, Goffin-King, The Five Royales, Bob Dylan, Nat "King" Cole, gospel, Yiddish folk songs, nursery rhymes, is to understand a group that knew no boundaries.
But the Pers were forever pigeonholed as "doo-wop" (which they are decidedly not) or "novelty." The thing about these five guys with no band that the so-called music industry and mainstream radio mostly could never grasp was. . .they are a band. As Lawson used to mordantly crack in concert, "When we came over on the boats, we didn't have no band."
Now one of the main band members of this American a cappella treasure really needs some help.
"I'd just like to get a kidney so I can have my freedom to continue to travel around and help teach kids how to sing a cappella, and help some of the kids that don't have any direction. . .inspire them," said Russell.
He sounded weak and tired when I interviewed him in the hospital a couple months back, but was characteristically upbeat when he called just a few days ago from his home in New York. He was disappointed to have just missed a big gig in Canada, he said, "because where this show was, there was no dialysis center," but added that he still manages to belt it out with the group closer to home (including a recent performance at their induction into the Doo-Wop Hall of Fame, even though they're not doo-wop!) Right, Joe still sings with The Persuasions (minus original lead singer/arranger Lawson, who left in 2003 to pursue a solo career), but only in cities where he can hook up to a blood-cleaning machine before taking the stage.
"I feel good, baby! I just keep on doin' the best I can. Keeping myself in good shape so if a transplant comes through, everything goes well."

| | |
| --- | --- |
| Russell: Still preaching the a cappella gospel, despite dialysis three days a week. | Sweet Joe (center), with fellow original Persuasions Jimmy Hayes (left) and Jayotis Washington, 2005. |
Irony always runs thick, and so it figures that a guy called "Sweet Joe," for his ebullient stage presence, would develop diabetes.
"I must have had diabetes four or five years before I knew I had it," he said. "I was in downtown Brooklyn, girl watching, and I realized something was wrong when I couldn't see across Fulton Street, so I came home and told my wife, and she said I'm going to take you to my doctor. This was on a Wednesday, and so I waited till Friday. Friday evening, we walked up to her doctor's office, and she said how did you get here? I told her we walked. She said, 'They should have brought you in here on a stretcher!'"
Russell could easily have been the lead singer in The Persuasions, as he had been in his previous group from the early '60's, The Parisians, but he took a secondary role after hooking up with Lawson, whom he recognized as a stronger front-man for the group. And it proved a good decision, as The Persuasions without Russell's houserocking harmony simply are not The Persuasions. (He does sing the occasional lead on record, and in concert.)
The Pers, as they are known to fans, owed their original sound not to fancy, nuanced harmonies of the type found in today's a cappella biggies (many of which seem to acknowledge The Pers as their inspiration, from Rockapella to Take Six), but to an almost unwieldy melding of lead singers. Jimmy Hayes's bass virtuosity is astounding for its depth, and its resemblance to a string bass, Jayotis Washington is an unbridled belter, Lawson is in a class with Sam Cooke, and Russell's voice would blow the roof off of any dump from a country church to Carnegie Hall. Even today. (Their original baritone, Russell's friend, Toubo Rhoad, who died in 1988, was the "glue" holding the ensemble together.)
To hear Joe tell it, he founded the Pers, but the truth is that Jimmy and Jerry were already singing together when they met Joe on a Bedford-Stuyvesant basketball court, so The Persuasions really just happened. Frank Zappa signed them to their first record deal (over the phone!) in 1968, and they went on to tour the world, and cut classic albums for Capitol, MCA, Elektra. Their name? Two stories: Christ had to persuade people to follow him was one, and the other was that The Persuasions would have to persuade people to listen to guys with no instruments. . .
"Going to Israel in 1980 and singing was a high point for me," said Russell. "I was raised up in the church, and had to go to Sunday school every Sunday, Bible study every Wednesday, and seeing all the things that I had been raised on, as far as the Bible was concerned, that was a peak.
"And we were asked to come to England to help some of the juvenile delinquents in Liverpool, at a place called The Blackie Organization. They sent for us. And my class had 12-to-14-year-olds. I had about 25 of them. We each taught a class for about a month. We had talent contests, and whoever won was going to be on the BBC. That was another real highlight. I remember that a kid named Roger eventually got record contract with Virgin Records."
And The Pers just went back on the road, living from gig to gig, school workshop to school workshop, record label to record label, as always. That's how it's been for the unflappable Russell, for almost 45 years.
Well, it's finally all in danger of coming to an end, unless somebody comes forward to help. Yes, Joe is only one of 27 million U.S. citizens with chronic kidney disease. Yes, over half a million also have end-stage renal function requiring a transplant. Yes, Joe (he's blood type O, by the way) is only one of 354,000 receiving dialysis at least three times a week.
What makes him so special? He would tell you nothing, and would not bat an eye to see a needy young person get a kidney instead of him. But what's a guy to do when he might not live out the seven-year wait for a transplant? Natalie Cole went on "Larry King Live," and lives because of it. Joe Russell gets The Rip Post.
A kidney transplant doesn't happen for a song.
But here's hoping that it happens for one wonderful singer.

* Full disclosure: I worked with The Persuasions on several projects, including their forthcoming first live album, and Joe Russell is a longtime friend.

BACK TO PAGE ONE