WHAT ABOUT THE OTHER BEATLES PARTNERSHIP?
There is a terrific 'Ringo & George' album
waiting to be made
By Rip Rense
copyright 2021 The Rip Post, Rip Rense, all rights reserved.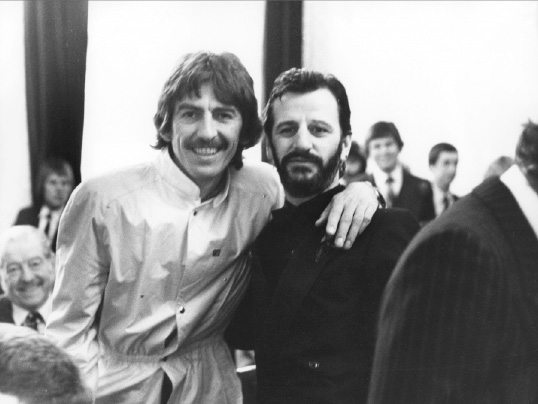 Harrison and friend, 1980.
There are endless Beatles spinoff "fan fantasy albums" one finds on bootleg and Youtube, and some manage to be logical and clever---say, one out of fifty. Most crash and burn in bad judgement. Here, however, is one that is so compelling, it begs to be put together. . .
By you, Ringo.
Hey (hey, bop-shoo-wop), as long as you're in semi-lockdown, recording EP's, Sir Richard, here's another project you might want to consider: Ringo and George. Perhaps you've thought about it before. It's such a glaring opportunity, and works so well on paper, it feels like a blank that needs to be filled in. Stay with me.
Who would argue that some of the most winning, uplifting post-Beatles solo works were done by Starkey, with involvement by Harrison? Obvious examples: the beloved "It Don't Come Easy" and "Photograph." Less obvious examples: the touching and infectious "King of Broken Hearts" and "You and Me (Babe.)" This is the other Beatles partnership, and it produced nothing but winners.
Some of Ringo's most expressive vocals are to be found in this mini-oeuvre, as well as many of Harrison's most freewheeling and eloquent slide solos. (For some reason, he often played with more abandon on records by other artists.) As for personnel, it's a "cast of thousands" of all-stars: Eric Clapton, Gary Brooker, Klaus Voorman, Stephen Stills, The Band, Gary Wright, Pete Ham, Tom Evans, Nicky Hopkins, Bobby Keys, Jim Keltner, Lon Van Eaton, Al Kooper, Mark Hudson, Tom Scott, arranger-producers Jack Nitzsche, George Martin(!), Richard Perry, even old Beatles engineer Geoff Emerick.
So gather the tracks and, yes, remix/remaster, include a few outtakes or alternate versions as extras, and you have one indispensable album, if that term can be used anymore. Here it is:
*"Early 1970"---Released in 1971 as the B-side of "It Don't Come Easy," this is a little gem in post-Beatles history, with no less than some of Harrison's greatest guitar accompaniment and soloing, ever. He's simply inspired, start to finish, giving the song a guitar-narration that pretty much stands alone in his output. How did this song even come to be? Ringo---the sole credited writer---was inspired, and his Beatles-era style drumming is just terrific. As is well known, the song is about, in order: Paul, John, and George, at the time of the break-up, with winning and whimsical lyrics. I mean, "his long-legged lady's in the garden picking daisies for his suit" is right up there with "darning his socks in the night when there's nobody there" from "Eleanor Rigby" (which he was at least partially responsible for.) Is there a more endearing Ringo lyric than: I play guitar – A, D, E / I don't play bass, 'cause that's too hard for me / I play the piano if it's in C / And when I go to town, I want to see all three. . .? (And does he really play the little snippets of each instrument interrupting the words?)
*"It Don't Come Easy"---Why say anything at all about this fabulous Ringo hit single? Its greatness is unassailable. I rank it second only to "My Sweet Lord" in post-Beatles solo singles. George, who plays one of his most memorable slide solos, arranged and produced it, and Ringo is credited with writing. This thing gets the highest compliment a solo Beatles record can get: it sounds like The Beatles. (Didn't hurt to have Badfinger singing back-up.) A new mix might restore the "Hare Krishna!" buried in the mix, in the middle of the guitar solo. Why? Yes, it's well known that Ringo wanted to keep religion out of the song, and asked George to mix hare Krishna down (it's still barely audible), but since Ringo has restored it in concert with the All-Starrs, why not on the original version, too? (Bonus track possibility: the early version, called "You Gotta Pay Your Dues," produced by George Martin, with Harrison playing acoustic guitar, Klaus Voorman on bass, and Stephen Stills at the piano.)
*"Back Off Boogaloo"---Not many songs say "Ringo" more than this rollicking item, the zippy follow-up single to "It Don't Come Easy," released in 1972. The drumming? Hundred-proof Ringo, more prominent and featured than on any other song he ever did. Ringo co-wrote it with George, who produced it---and, most important, added terrific slide fills, and a stinging, manic slide solo, one of his very best (the second half of which begs to be mixed up a bit.)
*"Sunshine Life For Me"---This jolly, whimsical, son-of "Here Comes the Sun"-type tune was written by George while on holiday in Ireland, in the vein of, as he said, "an old Irish folk song, a bit like country music." It was, legendarily enough, recorded by Levon Helm, Robbie Robertson, Rick Danko and Garth Hudson of The Band, and David Bromberg, for the hit Ringo album of 1973. (Helm, Danko, and Hudson later appeared with Ringo's All-Stars.) Klaus Voorman played bass, and Harrison and Ringo's co-writing partner at the time, Vini Poncia, sang back-up. The sardonic, but humorous lyrics, such as "Most folks just bore me, always imposin' / And I'd rather meet a tree, somewhere out in the cornfield," well suited Ringo, whose vocal is downright exuberant. (And it finishes with a genuine round!)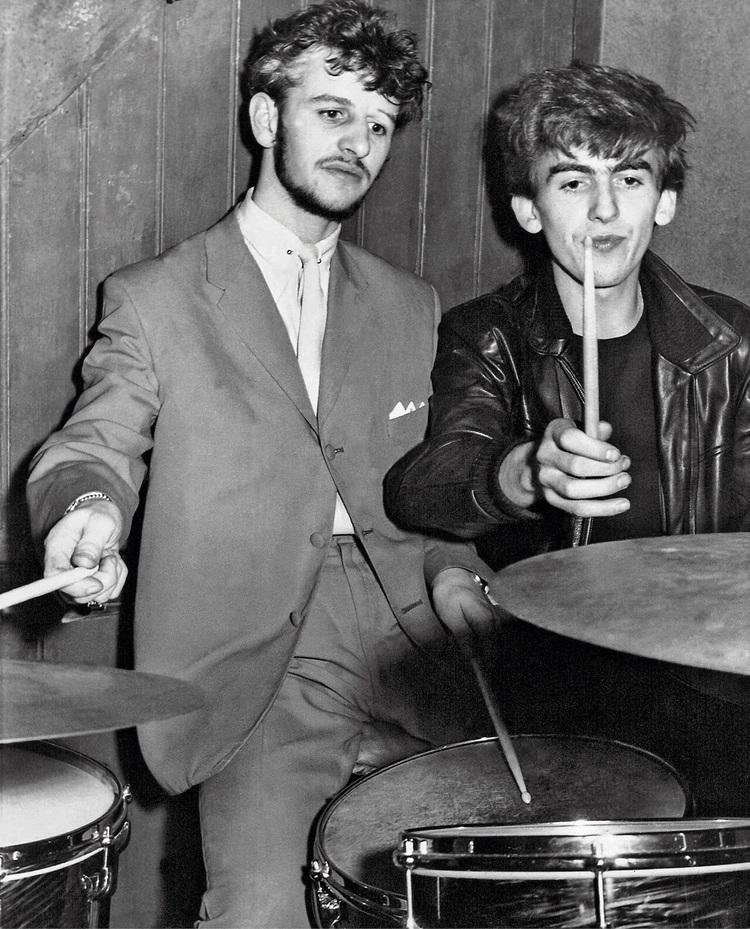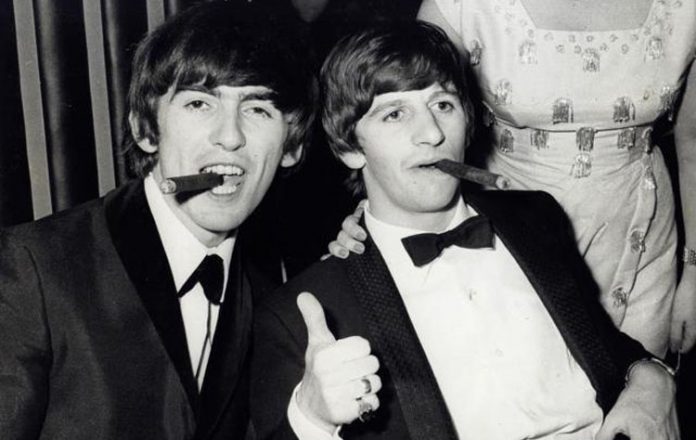 Harrison and Starr were fast friends from the get-go. Left, George visits the drummer for Rory Storm and the Hurricanes on stage in Hamburg, Germany, crica 1961. Right, a couple of prosperous, cigar-chomping Be-Attles.
*"Down and Out"---The flip side of "Photograph," and a bonus track on reisssues of the fabulous Ringo album, this is a Starr-penned ditty recorded in England with Harrrison, Gary Brooker, and Klaus Voorman in 1972. Richard Perry later added (very welcome) horns. A simple song, it has improved with age, owing to the amusing lyrics, Brooker's piano solo, and, once again, producer Harrison's beautiful guitar parts and antic solo. Background vocals might have been nice (and still could be added.) Dave Grohl and Ben Harper thought enough of this number to do a spiffy version for Ringo's 80th birthday Zoom party.
*"Photograph"---What need be said about this? The greatest of all songwriting collaborations between Ringo and George, it makes you wish they had written an entire album together. Easily in top five finest post-Beatles solo songs. Perry, Ringo engineer Bill Schnee, and Jack Nitzsche (strings, chorus) are responsible for the sweeping, elegant production, which included Klaus Voorman, pianist Nicky Hopkins, co-drummer Jim Keltner, Lon and Derrek Van Eaton, and sax solo by Bobby Keys. Harrison played twelve-string guitar and added harmony vocals throughout (it's almost a dual lead vocal.) (Bonus track possibility: early version recorded by George and Ringo in 1972.)
*"I'll Still Love You"---Harrison rehearsed this grand, self-penned, haunting love song during the All Things Must Pass sessions, but (damn!) didn't finish it. He also tried to make versions of it with Cilla Black, and Ronnie Spector, but they were also left incomplete. (Black later recorded her own version.) What might have been an ATMP classic, and one of Harrison's better, most poetic efforts, was rescued by Starr for his 1976 Rotogravure album. Arif Mardin gave it a big production, with strings, and Lon Van Eaton played an atmospheric, almost eerie guitar throughout. Ringo, who reportedly loved the song, sang with winning sincerity. A remix could add some badly needed background harmonies.
*"Wrack My Brain"---A wonderfully pointed, sarcastic swipe at empty popular culture, with such delicious Harrison lyrics as "With a will, there's a way, but there's no way I can see / Coming up with something you'd enjoy as much as TV." (It's kind of in the vein of his "Blood From a Clone" from the Somewhere in England LP, recorded around the same time.) George gave this up-tempo, slide guitar-framed number to Ringo for Stop and Smell the Roses album in 1981, and it became the first single. Ringo sings it with aplomb and obvious relish. Al Kooper comps memorably on keyboards. The version to use here is the alternate take with Harrison singing a very clear harmony vocal with Starr.
*"You Belong to Me," Written by Chilton Price, Pee Wee King, and Redd Stewart, first recorded by Joni James, made famous by Jo Stafford 1952, this golden oldie could have been written for Ringo. Harrison apparently thought so, as he suggested it for Stop and Smell the Roses, produced it, and contributed a little jolly slide guitar. Ray Cooper added the memorable piano parts. A joyful trifle. (Possible bonus track: Ringo reportedly recorded a version of "All Those Years Ago" with George at the same sessions for "You Belong to Me" and "Wrack My Brain.")
*"King of Broken Hearts"---This was written chiefly by Ringo and Mark Hudson, in their very first meeting, as Hudson told me in an interview. (Finished credit: Richard Starkey, Mark Hudson, Dean Grakal and Steve Dudas.) Hudson, of course, produced five studio albums and four live albums for Ringo, co-writing much of the material with Mr. Starkey. This is certainly the best of their collaborations, from the Vertical Man album, a song that well fits the "sad Ringo" aspect, and it boasts a number of important features: it was arranged by Sir George Martin ("like 'Walrus,'" as per Hudson's request), mixed by Geoff Emerick, and features one of the most gorgeous, tender slide solos Harrison ever played. (Especially nice is the moment in the solo---overdubbed by George in England---where he matches a Ringo fill.) Harrison further illustrates the song with fine slide embellishment throughout. A gem.
*"I'll Be Fine Anywhere"---A kind of answer to "King of Broken Hearts," this keep-your-sunnyside-up shuffle, also produced and arranged by Hudson for the Vertical Man album (same songwriting team) features a merry vocal by Sir Richard, and infectious slide punctuation and solo by Harrison. For my money, not a potent boast, Harrison's playing begs to be mixed way up.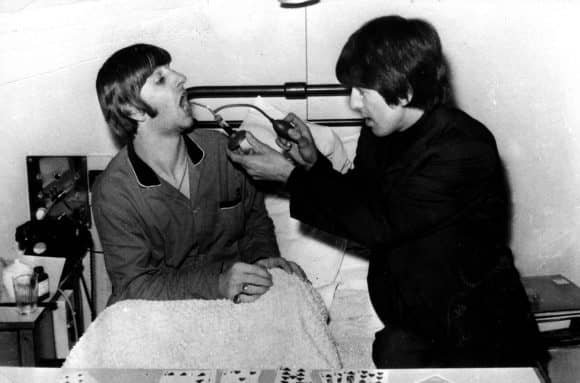 George helps Ringo recover his voice after tonsilectomy, 1964.
*"Never Without You"---This is a judgement call, could be included or omitted. Of course, this is Ringo's beautiful, touching tribute to George for the 2003 Ringo Rama album, the follow-up to Vertical Man. It was begun by singer/songwriter (and Grammy-winning producer) Gary Nicholson, but adapted by Starr and Hudson as a paean to Harrison, who passed away in 2001. With various references to Harrison songs, from "Here Comes the Sun" to "All Things Must Pass," it certainly evokes Harrison's spirit, as does the guitar solo by George and Ringo's close friend, Eric Clapton. Ringo's vocal arouses tears.
*"You and Me (Babe)"---This reportedly grew out of an idea for song by Mal Evans about transcendental meditation. Harrison was staying with Evans, the longtime Beatles roadie and aide, in Los Angeles for the Ringo sessions, and adapted the tune for the album closer. It's a lovely item, and under-rated, what with Starr holding down one of his inimitable bouncy slow grooves in a band made up of Harrison, Hopkins, Poncia, Voorman, and percussionist Milt Holland from Tom Scott's L.A. Express. Scott played and arranged the catchy horn parts, with Jack Nitzsche adding additional arrangement touches. It's another case of Harrison having the right touch and sensibility for writing Ringo-appropriate fare, and evokes nostalgia and warmth, even if some of the lyrics are playful ("Though I may not be in your town / You know that I can still be found / Right here on this record / Spinning round with the sound. . .") The song is unthinkable without George's lyrical slide parts, notably where they do a call-and-answer with the horns. For this theoretical project, Sir Richard's delightful thank-you's to the Ringo album contributors would have to be mixed out.
As mentioned, bonus tracks (if considered necessary) might include: the early version of "It Don't Come Easy" with Stephen Stills (piano), Harrison (guitars), Voorman (bass), George Martin producing; the early version of "Photograph" recorded in England with George producing; the version of "All Those Years Ago" with Ringo singing lead; the long-bootlegged version of "It Don't Come Easy" with George's guide vocal and longer arrangement.
And yes, one could argue for the inclusion of "Octopus's Garden" (although McCartney had a large hand in the arrangement), considering Harrison's stellar, uncharacterstically extroverted guitar work throughout the song.
The album could be done as a full-out release in all formats, or just a limited edition 180 gram vinyl---or both. And if there is a particular Harrisong that Ringo has always wanted to sing, why not convene a band and record it now? I'm sure Dhani and Paul and Eric would enjoy being part of the proceedings.
Oh, and one more thing: in the event this comes to pass, I volunteer to write the liner notes.