THE PERSUASIONS: A BRIEF HISTORY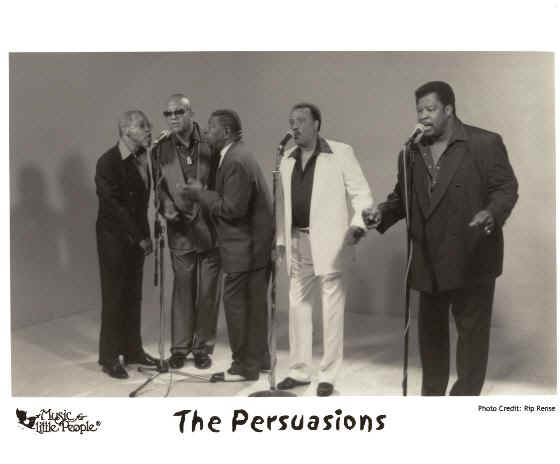 The Persuasions, circa 1998, sing "500 Miles" live on the long-running cable program, "Lil Art's Poker Party" in 1998. Host Art Fein turned over the whole show to the Pers.
(photo by Rip Rense)
BY RIP RENSE ©1999, 2005
The Persuasions are the undisputed heavyweight champions of a cappella. They are, as the L.A. Weekly wrote, "to singing what Muhammad Ali was to boxing---invincible, innovative, original, beautiful."
The original five Persuasions---Jerry Lawson, Jimmy Hayes, Joe Russell, Jayotis Washington, and Toubo Rhoad---fell together by chance in 1962, harmonizing on outdoor basketball courts in Brooklyn after pick-up games. They went on to release 18 albums, and to perform or record with artists including Liza Minelli, Bette Midler, Stevie Wonder, Lou Reed, Van Morrison, Paul Simon, Joni Mitchell, Gladys Knight, Patti LaBelle, Little Richard, Nancy Wilson, The Neville Brothers, Country Joe McDonald, B.B. King. Their music has turned up in films from Joe and the Volcano to The Heartbreak Kid, Streets of Gold, and E.T.
Throughout the 60s, 70s, and 80s, The Persuasions preached the a cappella gospel almost entirely alone, until the genre suddenly acquired mainstream popularity, partly as an outgrowth of rap and hip-hop. They were in the tradition of great gospel a cappella groups such as The Golden Gate Quartet and The Fairfield Four, but they advanced the art form into a percolating, pulsing meld of rock 'n' roll, soul, country, blues. . .In short, they "Persuasioned" any songs that suited them, and made them their own---from "Papa Oom Mow Mow" to "Curtis Mayfield's "Man Oh Man."

In 1988, baritone Rhoad, whose rough-edged voice was considered the "glue" of the group's sound, blending the high profile voices of Lawson and Russell in particular, died in the middle of a tour from a stroke. His ashes were scattered by his fellow Persuasions in his beloved San Francisco Bay, and the group continued as a quartet for the next seven years, always introducing Rhoad faithfully at each concert. Baritone and former Drifter Bernard "B.J." Jones joined in 1996, and in March, 1999, the addition of first tenor Raymond X. Sanders (The Coasters, The Paragons) made the group a sextet. Both had intermittenly toured and recorded with The Persuasions throughout the '90s.

In 2003, lead singer and founding member Lawson left to pursue an independent career. He is currently embarked on a variety of projects, including a forthcoming a cappella album backed by the venerable San Francisco group, Talk of the Town. (For more information, please visit http://www.jerrylawson.biz .)

The Persuasions' first post-Lawson album---the group's 24th---is a tribute to the band, U-2, on Chesky Records, released in September, 2005.

Today, The Persuasions are hailed by a cappella ensembles everywhere as a seminal, inimitable influence. From Rockapella to The Nylons, contemporary vocal bands speak of Persuasions albums with reverence. Critics often place Lawson's inspired phrasing and warm baritone in the same context with Sam Cooke, Brook Benton, Otis Redding. Bass singer Jimmy Hayes---the group's "basso profundo"---is widely regarded as the greatest a cappella bass man ever; he "plays" bass more than sings it. Russell's eruptive voice, gospel and R&B chops, and ability to whip up a crowd, are legendary. Washington's elastic tenor took the group into jazz and swing territory. The collective harmonies, learned on the streetcorner and honed over decades on the road, have given the group a sound as unmistakable as The Modern Jazz Quartet, or The Beach Boys.
Rock critic and author Greil Marcus once called The Persuasions' style a "perfect marriage of passion and intelligence," and Rolling Stone rated their 1977 album, Chirpin', as one of the hundred best works of the 1970s. Mix Magazine proclaimed "The Persuasions are four parts of one voice, one spirit." Cash Box correctly noted, in 1996, "These all-vocal, instrument-free heroes paved the way for today's platinum a cappella acts, Take 6 and Bobby McFerrin, as well as the retro-hip-hop styles of Boyz II Men and Color Me Badd."
Perhaps, to really understand the charm of this American musical institution, it is best to quote Tom Waits:
"These guys," he said, "are deep sea divers. I'm just a fisherman in a boat."
Why the name, "Persuasions?" Well, as one story goes, the group decided early on that if Christ had to persuade people to listen, and so did five guys without a band.

The original Persuasions came to Brooklyn from Florida (Lawson), North Carolina (Russell), Virginia (Hayes), and Detroit (Washington.) (Newer members Jones and Sanders are New York born-and-raised.) They all came from both church and secular musical backgrounds, and from the start, their repertoire was a mix of gospel, soul, and pop. They graduated from parties to performance by the mid-60s, a pivotal point coming when they worked for Robert F. Kennedy in Project Restoration and other efforts to aid African-Americans in the inner cities. It helped cement their resolve, and sense of mission.
The Persuasions were "discovered" by Frank and Gail Zappa in 1968. The group's friend (and eventual producer/manager of the '70s) David Dashev called Zappa from a New York rehearsal studio, declaring, "You've got to hear this." Zappa was so taken with the tape, even over the phone, that he had Dashev bring it to California for a listen. There, after getting a thumbs-up from an enthused Gail, Frank signed the the group to his own label for Warner Brothers, Straight Records. The Persuasions debuted to the world with the half-studio, and half-live A Cappella, in the fall of 1970.
Said Zappa, to this writer, many years later:
"I could tell, even over the phone, that these guys were something special."
Following their Straight album, The Persuasions signed with Capitol and recorded three of the most arresting vocal albums ever made: the Dashev-produced We Came to Play, Spread the Word, and Street Corner Symphony. They covered tunes by Bob Dylan, Kurt Weill, Curtis Mayfield, Sam Cooke, The Temptations, Joe South, Rogers and Hammerstein, Lennon and McCartney. The Persuasions came to be regarded as hip fare on college radio in the early 70s, and their first albums became, for a short time, FM staples. Dr. Demento, an early champion of the group, enlisted them to record a jingle for his still-running novelty radio show, still fondly remembered by listeners.
Still, '70s rock-and-disco-dominated radio never quite figured out how to program or market The Persuasions. Record companies weren't sure how to promote them, regarding them as a curiosity; even a tax write-off. Sure, they were enormously popular on the road, but. . . they had no band, and their material was so eclectic. Were they a novelty? Folk? R&B? Soul? Oldies? Gospel? It took Tower Records at least 20 years to stop filing their records and CDs in "oldies," "vocals," and "R&B," and finally just give them their own category where they belonged: "Rock and Pop."
Asking why The Persuasions' 1000-plus song repertory is so eclectic is perhaps like asking the same question of Frank Sinatra.
"I don't believe in categories," Lawson once said. "We love all kinds of music: Brook Benton, gospel, blues, Frank Zappa---hell, we even do 'I Woke Up In Love This Morning,' a song I heard on The Partridge Family TV show! It's all music. Give it to us, and we'll do it Persuasions-style. There are just certain songs that are Persuasions song."
From Dylan's "The Man in Me" to Zappa's withering commentary, "The Meek Shall Inherit Nothing" and Kurt Weill's "Oh Heavenly Salvation"---even The Grateful Dead's poignant "Black Muddy River"---The Persuasions imbue songs with a conviction, heart, and humor that perhaps even the authors didn't intend, or understand. Gail Zappa, upon hearing them sing "Black Muddy River" in concert, later remarked to this writer, incredulity in her voice, "I was in tears over a Grateful Dead song!"
Quoth Hayes:
"We ain't no novelty act or nostalgia or any of that. We're truth."
The group's peers, from Midler to Minelli, have long recognized this truth---and enlisted The Persuasions' services. Over the years, The Pers, as they call themselves, have opened for The Mothers of Invention, The Five Blind Boys of Alabama, Ray Charles, Bill Cosby, and Richard Pryor. Incredibly, Roseanne Barr and Bruce Springsteen once opened for The Persuasions.
In the mid-90s, director/producer/Persuasions fan Fred Parnes completed his long-labored over labor of love, the film documentary, Spread the Word: The Persuasions Sing A Cappella. The film was honored at the Smithsonian Institute, and played exclusive engagements and festivals in New York, Los Angeles, and Europe. It drew praise from publications ranging from The New York Post to the Hollywood Daily Variety, due in no small part to the charm of its stars. As one reviewer wrote, "It's nearly impossible to watch without a) wanted to go hear the group live; b) wanting to sing along, and c) wanting to be their friend." Film critic Andy Klein, then with the (now defunct) L.A. Reader summed things up nicely:
"Feeling depressed?" wrote Klein. "Life got ya down? Is that your problem, Binky? If it is, I can think of no greater remedy than to watch Fred Parnes's documentary, Spread the Word: The Persuasions Sing A Cappella---a funny, moving, and invigorating look at a vocal group that is one of America's national treasures. . .Actually, I can think of one greater remedy for despondency: if the Persuasions happen to be playing around town, go see them. No film could possibly capture the sheer joy and energy of the group live."
"Spread the Word" found a home on PBS, which also aired Spike Lee's "Do It A Cappella" (featuring The Persuasions as "the godfathers of a cappella") and the tribute, "Music of the Late Kurt Weill," in which The Persuasions sang "Oh, Heavenly Salvation." The group has also turned up on Today, Good Morning, America; The Tonight Show, Saturday Night Live, and Late Night with Conan O' Brien.
Dozens of newspapers ranging from the Philadelphia Inquirer to the Denver Post carried major feature articles during the group's 35th anniversary year, in 1997. The San Jose Mercury News wrote: "That The Persuasions---the godfathers of the movement---guys who were singing a cappella on the streetcorners of Bedford-Stuyvesant, N.Y., long before Boyz II Men were even Babiez II Men, are sometimes overlooked is a howling injustice, in five-part harmony." During the same year, The Persuasions were also the subject of lengthy interview pieces on National Public Radio, and NPR stations in Boston and Los Angeles, which acclaimed them as the "kings of a cappella."
The touring, which has taken The Persuasions to Alaska, Sweden, Israel, Europe, and Australia, continues undiminished---as does the recording. The long procession of acclaimed albums on Capitol, MCA, A&M, Elektra, Flying Fish, Rounder grew in 1997 with their Christmas album, You're All I Want For Christmas (Rounder---Bullseye Blues)---and it was recommended by The New York Times, Los Angeles Times, and The Urban Network magazine. That same year, Capitol issued a compilation culled from their three albums of the early 70s, entitled Man Oh Man.
In May, 1999, The Persuasions released their first children's album, On The Good Ship Lollipop (dedicated to Patti Page and Country Joe McDonald) on the Grammy-nominated Music For Little People Label. Billboard called it one of the greatest kids' albums of the year, People Magazine "picked" it, and the Los Angeles Times and Publisher's Weekly raved (see "Articles and Reviews.") The album has won endorsements from parents publications across the country, and awards including the Oppenheim. Primarily A Cappella wrote: "You don't have to be under four feet tall to be charmed by this CD. In fact, adult listeners will be transported with as much enthusiasm as their younger companions. The Persuasions have never been in better form musically (in all their 37 years as a group!)"
In March, 2000, The Persuasions released an all-Zappa album, Frankly A Cappella: The Persuasions Sing Zappa (Earthbeat!/Rhino) in tribute to the man who signed them to their first major album deal in 1968. The album was the brainchild of this writer (then de facto manager of The Persuasions), a longtime fan and friend of Zappa. "Frank gave us our start, and this is our way of saying 'thanks,'" said Lawson. "And you can't believe how great his music sounds a cappella!" Executive produced by this writer, produced by respected Bay Area producer Gary Mankin and Lawson, the album accrued unanimous endorsements, from People Magazine to Billboard, Daily Variety, The Washington Post, San Francisco Chronicle, New York Times, Los Angeles Times, CD Now!, and a myriad of publications. It also received the hard-won endorsement of Gail Zappa, the composer's widow, who graciously feted the group at her home.
In October, 2000, The Persuasions released an all-Grateful Dead album, Might As Well: The Persuasions Sing Grateful Dead, on Grateful Dead Records/ Arista. This album was also the brainchild of this writer, who felt The Persuasions could realize the rich songs of Robert Hunter and Jerry Garcia in such a way as to reach a broader audience than devoted Deadheads. Said Hunter, "You done Jerry proud."
After over 40 sometimes harrowing years, The Persuasions keep on truckin'--always with their motto intact: "We Still Ain't Got No Band."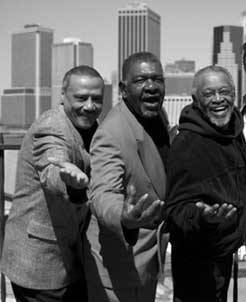 Persuasions, 2005: l to r, Jimmy Hayes, Joe Russell, Jayotis Washington, Raymond Sanders, B.J. Jones.