One More Beatles Song,
or Should They Just Let It Be?
By Rip Rense
Special to the Washington Post
Aug. 21, 2005
http://www.washingtonpost.com/wp-dyn/content/article/2005/08/19/AR2005081900377.html?referrer=emailarticlepg


There is yet another bend in the long and winding road.
There is one more Beatles song---no, not another unreleased old '60s tune, an outtake, or rough rehearsal.
It is the third "virtual reunion song" worked on in 1995 by the Paul McCartney, George Harrison, Ringo Starr, and producer Jeff Lynne, a haunting John Lennon ballad called "I Don't Want to Lose You."
McCartney says he "wouldn't mind" finishing it.
Originally reported as being titled "Miss You" or "Now and Then," this was one of the four original Lennon home tapes that his widow, Yoko Ono, chose for McCartney, Harrison, and Starr in 1994 in order that they might turn them into full-fledged Beatles numbers.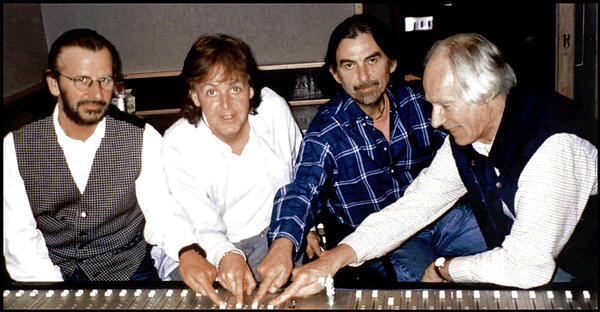 The "Threetles:" Ringo Starr, Paul McCartney, George Harrison at Abbey Road Studios in 1995
with Beatles producer George Martin, during the Anthology project.

It was part of the multi-media Beatles Anthology project of the mid-90s---an autobiographical venture that all the Beatles, including Lennon, had committed to doing. (Lennon in 1979 court documents as part of a lawsuit against the producers of "Beatlemania, said the group would produce a documentary which would include new music.)
Two of the Lennon tapes, "Free As A Bird" and "Real Love," were famously completed by the so-called "Threetles"---only to be greeted with mixed reviews and outright controversy. (BBC Radio 1 actually refused to add "Real Love" to its playlist, allegedly because the song did not meet its young target demographic.) Another, "Grow Old With Me," was rejected by the group, although was later scored with small orchestra by veteran Beatles producer George Martin and included on the John Lennon Anthology.
But "I Don't Want To Lose You," originally intended for Vol. 3 of the CD Beatles Anthology, was put aside because it reportedly was not falling together easily and required more writing. The song was ultimately abandoned after the critical notices for the first two reunion songs left the trio---especially Harrison---reluctant to complete a third.
Yet McCartney, who has devoted much of his latter career to performing Beatles music, is open to finishing the song, as he said in a 2002 MSN internet chat:
"When we did 'Free As A Bird' and "Real Love,' there was another track under consideration for us to work on but we didn't get around to it so I wonder if there will be a chance in the future. I wouldn't mind doing it."
In fact, he and Harrison and Starr did get around to it. The song was worked on, according to one report, on several occasions at McCartney's Mill Studio in Sussex: February 11 to early March, June 22, 1994; February 7, March 20 and 21, 1995.
In his only comments about the sessions, producer Lynne described the "I Don't Want to Lose You" sessions in an exclusive interview with this writer in 1995:
"It was one day--one afternoon, really--messing with it," he said. "The song had a chorus but is almost totally lacking in verses. We did the backing track... a rough go that we didn't really finish. It was sort of a bluesy sort of ballad, I suppose, in A minor. It was a very sweet song; I liked it a lot, and I wish we could have finished it."
Said longtime Beatles engineer Geoff Emerick, who also worked on the sessions, in an interview with this writer: "It would be nice to get it finished. Paul's up for it. . .The chorus is great... it would make a great record."
Although McCartney and Starr would not comment for this article, Ono said in an exclusive interview she does not oppose the idea.
"I sent those songs to them when the situation was quite different," she said, reached at home in New York. "Now that George is gone, I don't know if the same would apply. I will consider the possibility, that is, when I get the call."
Harrison, who was quoted during the "Free As A Bird" sessions as morbidly quipping, "I hope someone does this to all my crap demos when I'm dead, making them into hit songs," is present on the recording. One source who claimed to have heard the partly completed track said Harrison plays guitar and sings backing vocals on it. The ex-Beatle died of cancer Nov. 30, 2001.
In a double irony, it was Harrison, known to speak and sing bitterly about his Beatle years, who first approached Ono---popularly vilified for catalyzing the Beatles' break-up---about a virtual Beatles reunion.
Ono said she took the request to heart, selecting unreleased Lennon songs "very carefully," she said, "because these songs were to come from the Beatles. The Beatles will be singing to the world again. The implication of that was tremendous."
She chose "I Don't Want to Lose You" for almost therapeutic reasons.
"I thought this was a song which would release people from their sorrow of losing John," she said. "By listening to the song, they will eventually be able to release their sorrow, and arrive at an understanding that, actually, John is not lost to them. People who loved John are growing with John - by carrying their memory of John in their hearts. Paul, George and Ringo lost a great friend as well. If they sung this song from their hearts it would have helped many people around the world who felt the same."
Should it be finished? McCartney, Lynne, and Emerick are on the record in the affirmative. And so, at least with qualifications, are several Beatles specialists---including Starr's writing and producing partner of his last five albums, Mark Hudson.
"I'd love to see it happen! Are you kidding?" said Hudson, reached in Los Angeles.
Yet there could be a "political" problem, Hudson added, stemming from the fact that it is a Lennon song that would be completed by McCartney. There is no shortage of controversy here, what with McCartney in recent years objecting to Lennon's name on the credit for the McCartney-penned "Yesterday." (He since withdrew the complaint, admitting that it was poor judgement.)
"That gets political because of Paul's take on the Lennon and McCartney situation," said Hudson, who knew Lennon and has worked with McCartney. "Then it would have to be discussed, probably with Paul and Yoko, and if it were to work out, and with permission, then I think it's all out in the open. If anybody is gong to be capable of making an addition to a John Lennon song, it definitely would be Paul McCartney. I don't think there's anybody better or anybody who has more right to."
"And I think he would write it like a Lennon McCartney song---I really do. I don't think he would make it too McCartney."
Bill King, editor and publisher of Beatlefan, the oldest Beatles fan publication in the United States, said "naturally I'd like to see it completed"---though not necessarily as an official Beatles song.
"Whether I'd like it to be released under the name 'The Beatles' depends on the degree of collaboration," said King. "If George played or sang on it and his contributions are kept in the finished version, and if both Ringo and Paul are involved in finishing it up, then I wouldn't have a problem with it being a 'Beatles' release. If it's just Paul finishing it off (without the others), it shouldn't be called 'The Beatles.' I'd propose another alternative: (if it is not finished), Yoko should take the demo and the unfinished Threetles version and make them bonus tracks on some future Lennon release."
Chris Carter, host of "Breakfast With the Beatles" on KLSX-FM in Los Angeles and widely recognized authority on the group, had other Beatles priorites:
"I would value any song (especially if it was great) performed by John, Paul, Goerge and Ringo, no matter how (or when) it was recorded," said Carter, who has interviewed George, Ringo and Paul, and many figures associated with the group's history. "If Capitol is really looking for some 'new/old' Beatle product to release, they can always release The Beatles' Christmas discs on CD! We've only been waiting for that since 1971!"
Meanwhile, "I Don't Want To Lose You" found a brief spotlight as one of two "new" songs Ono presented to the ill-fated "Lennon---The Musical," which played a short run at the Broadhurst Theater on Broadway in New York. (The other is a 1980 demo of a breezy 1968 ballad entitled, "India, India.")
Said Don Scardino, writer and director of "Lennon," in a recent interview:
"'I Don't Want To Lose You' may be the saddest, most poignant love song he ever wrote."
Sounds like something The Beatles would never have passed up.


BACK TO PAGE ONE