Saturdee Opry Links # 98: Look Back Edition
Saturdee Opry Links is/are now posted. Dogs recommend: "Better than fire hydrants!" Yes! Now YOU can experience beautiful art instead of reading and hearing incessantly about horror! Today: the great forgotten tenor, Giovanni Consiglio! And. . .the Ponselle Sisters! What's that, you say? Eh? You'd rather sit naked on cactus? BE MY GUEST! Otherwise, enjoy all ten selections, plus overture and encore. You could not spend your time in a better way, unless you are still young enough to fornicate. And even that's debatable. You're welcome.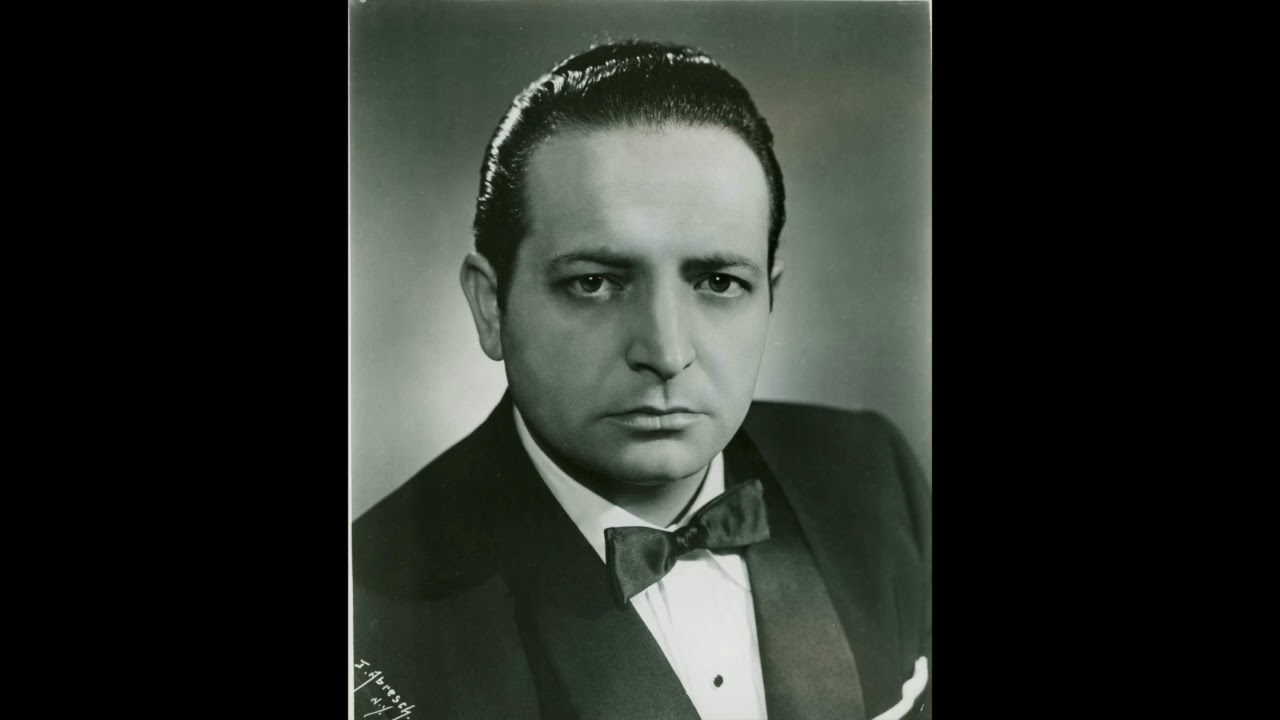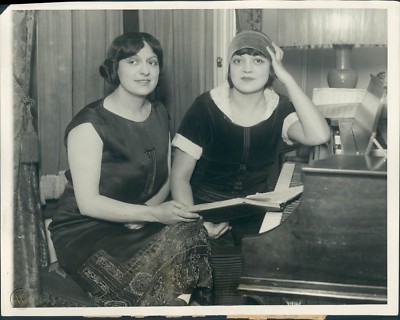 Giovanni Consiglio Carmela and Rosa Ponselle
Saturdee Opry Links Overture!
"Orpheus in the Underworld," by Offenbach.
https://www.youtube.com/watch?v=vEnW5_GTooI
1.
Okay, I usually steer clear of "Nessun Dorma" (from Puccini's "Turandot") on SOL. It has become the cliche of all cliche tenor arias. Everyone from Michael Bolton to Aretha Franklin has assaulted it. Yes, it is a great, great aria. Yes, it has been substantially reduced in impact from out-of-context over-exposure. But! Giovanni Consiglio is such a forgotten tenor that there is not even a Wikipedia entry. He sang with the greats, studied with the legendary Francesco Merli, yet seems to have---by preference---spent much of his career in South America. I stumbled across his name recently, and did a little listening to his lirico-spinto voice (a lyric tenor with power to "punch through" over the orchestra on the big notes.) I was amazed. Chalk it up to quirks of fate---and apparently some jealousy---that his voice is not better known (more later.) I mean, listen to this. . .
Setting: The gardens before the walls of Peking
Synopsis: A herald has just announced that no one will sleep in the city of Peking until the Calaf's name is known to the Princess. Calaf, who knows that he has agreed to be killed if Turandot learns his name before the morning, is not worried. He is sure that he will be the only one to reveal his name to the Princess and he will only do that once morning has come and the Princess has consented to be his wife.
https://www.youtube.com/watch?v=4X1CS_X00Zs
Translation:
http://www.aria-database.com/search.php?individualAria=318
2.
With many opera singers, the stories are similar: they exhibit an early talent, and are eventually discovered by a teacher or sponsor. Not quite with Giuseppe Consiglio. A little stint as a prisoner-of-war interfered with this process. Seems an uncle pushed him into Mussolini's army, and after seeing action from ages 17 to 19 in Libya, he was captured at the battle of El-Alamein by the British. Set free when WWII ended, Consiglio went home to San Marco La Catola, in Italy, with no idea what the hell to do. Lucky for him, the same uncle who nearly cost him his life pushed him to study music. At age 24, he sang passages from Mascagni's "Cavalleria Rusticana" with a local orchestra, and was promptly offered job in. . .Buenos Aires. Huh? Yes, poor Consiglio went from fighting for a fascist dictator, to singing for one (Juan Peron.) He became the pride of Buenos Aires, toasted and wined and dined, an enormous success, but was counseled by friends that he would never achieve his potential unless he returned to Italy. So in 1955, he did---where he studied for three years with Merli. Here is his rich, opulent, powerful voice in a tour-de-force rendition of the aria, "O tu che in seno agli angeli" from Donizetti's "The Elixir of Love." (Aria starts at the 3:00 mark.)
Setting: Italy, near the town of Velletri
https://www.youtube.com/watch?v=PPtXeZ4F0R4
Synopsis: Don Alvaro, who has changed his name to Don Federico Herreros, is musing on his lost love - Leonora. He decries the fate that befell his parents and denied his royal throne. He has come to Italy as Captain of the Spanish Grenadiers to fight in the army.
Translation:
https://www.opera-arias.com/verdi/la-forza-del-destino/o-tu-che-in-seno-agli-angeli/
3.
Consiglio's career was peripatetic, if not downright weird. After studying with Merli in Italy for three years, he came to the USA (1958), promptly sang a Verdi's "Aida" in some kind of extravagant production at the Triboro Stadium, and was booked in opera houses around the country: New Orleans, Providence, Dallas, San Francisco, Detroit, Washington, Chicago. But he hated having to register with Immigration every few months, so he blew town and went back to his beloved South America, where he was treated like royalty in: Venezuela, Colombia, Mexico, and Argentina. The guy should have been a regular at the Met, recognized as one of the greatest tenors of his time, but instead was content to wander---back to the States again by 1960, where, get this, he became lead tenor from 1962 to 1967 at the. . .Cincinnati Opera? Yup. Go figure. Cincinnati. Here he is with the delightful Verdi waltz from "I Lombardi," "La mia letitia infondere" ("such joy to my heart is thrilling.") (Note: the link also includes "Nessun Dorma," which I posted in selection number one. Also note: none of the Youtube posts give date or location of the performances.)
Setting: a hall in Acciano's palace
Synopsis: Giselda, Arvino's daughter, has fallen into the hands of her father's enemy, Acciano. Oronte sees her and they fall in love with each other. He proceeds to lay out all his feelings for her in the first part of his aria. After he is warned by his mother that he will only be able to have her if he becomes a Christian, he states that he will become Christian for, as he sings in the cabaletta, if she believes in this god, he must be the true one. To him, she seems like an angel of purity and virtue.
https://www.youtube.com/watch?v=-anw5RI_ais
English translation:
To infuse my joy
I wish, in your lovely heart
I wish to awaken with the throbbing
Of my blessed love
As much harmony in the heavens
As it has planets
Ah! To go with her to heaven and to rise up
Where no mortal goes…
ITALIAN:
http://www.aria-database.com/search.php?individualAria=160
4.
Later, while in Cincinatti (!), Consiglio also began moonlighting with the New York City Opera Company, but a hair perm got in his way. What? Let Consiglio tell it:
"I never liked the atmosphere you would breathe in that (NYCO) theater. One episode in particular made me decide to never go back. I auditioned for Maestro Julius Rudel, a nobody, house conductor at NYCO, and at the end of the audition the comment of the conductor was:
'You Italians have a defect. You sing too much to the audience'! When the hell should a singer ever sing with his back turned to the audience? Just an idiotic remark! I had to work with him nonetheless, having already signed a contract, but that was the end of our cooperation. I should also say that I never particularly liked men that perm their hair."
Ha! What's that, you say? "Tenors!" Well, perhaps. In this instance, one might just as well say, "Conductors!"
Consiglio sang well for FIFTY YEARS. Here is rare footage of him performing part of the act one love duet from Puccini's "Tosca" at the age of (gasp) 76! And sounding great! The soprano is Yolanta Rawyeska, and it was part of an "opera classics" concert in New Jersey. Astonishing.
https://www.youtube.com/watch?v=fUA8MpzQd40
Translation:
https://www.opera-arias.com/puccini/tosca/ah-quegli-occhi/
5.
Who says quality guarantees success? I mean, look at me! Consiglio did not go over well at the Met, either, or maybe it was the other way around. Hired to sing Berlioz's monumental "Les Troyens" in 1972, it seems no one mentioned that he had to sing it in French. Minor detail. At least not until the last dress rehearsal. Consiglio was immediately replaced by Jon Vickers. The tenor also claims that Richard Tucker ("a very nasty person") tried to interfere with his Met success (and elsewhere.) Mia geloso! "Tenors!" Perhaps the salient anecdote is that the great Franco Corelli told reporters that no one was able to sing at Consiglio's level. (The pair became, and remained, close friends.) And so Consiglio went on to teach at the Philadelphia Academy of Vocal arts, and worked as artistic director for the Connecticut State Opera to the end of his days. One of his career highlights was when the composer, Anton Coppola (uncle of Francis Ford), dedicated the tenor aria, "Antico Amor," from his opera, "Sacco e Vanzetti," to Consiglio. Here, Consiglio sings that lovely aria. No translation available.
https://www.youtube.com/watch?v=2AK36TxU0HQ

SOL EXTRA! Review of Consiglio's 1958 Carnegie Hall Concert in the NYT!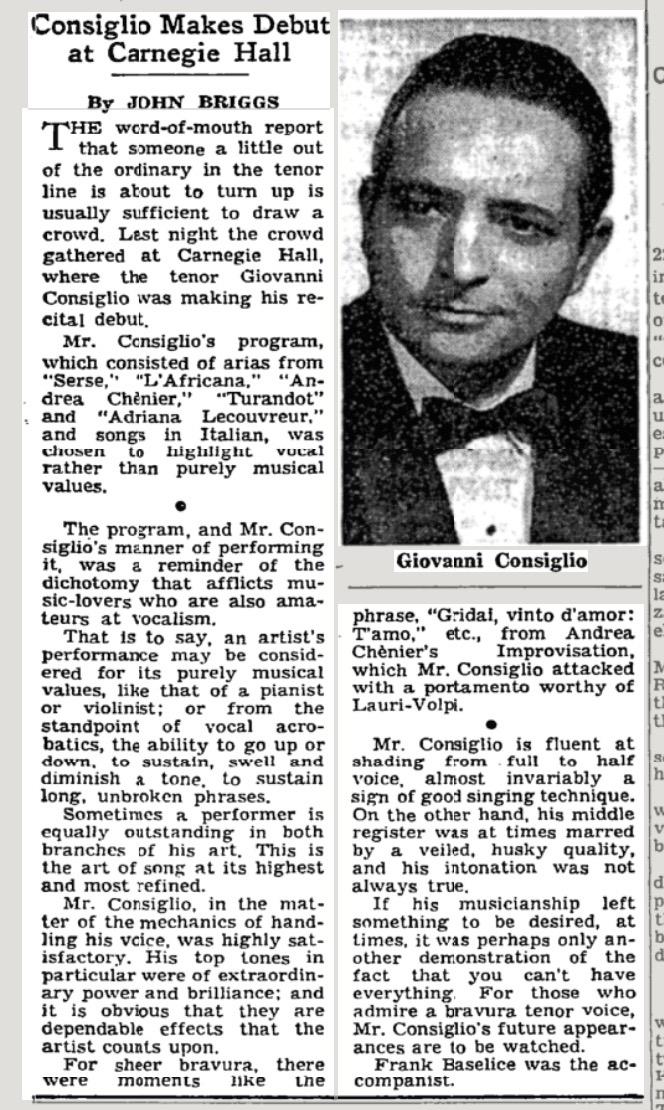 6.
One more Consiglio post---and this will be fun. No, really---fun. I know, I know, listening to "screaming opera people" is maybe not your idea of fun, but tough shit. Here is the wonderful, largely forgotten tenor singing the great Neapolitan song, "Core 'ngrato" ("Ungrateful heart") when he was in his prime---and, get this---private footage of him singing the same song, when he was in his 80's, sitting down at a party (probably a birthday party for him.) Quite incredible, and quite heartwarming. In other words. . .fun.
YOUNG Consiglio:
https://www.youtube.com/watch?v=5RFuRc06ErM
OLD Consiglio:
https://www.youtube.com/watch?v=Bf9fGZz0loQ
Translation:
https://lyricstranslate.com/en/core-ngrato-ungrateful-heart.html
7.
The great Rosa Ponselle, while not forgotten, is not sufficiently remembered. She debuted to great acclaim at the Met in 1918, opposite Enrico Caruso---yet did not get around to singing "Carmen" there until 1935. Her upper register was not what it once had been, though, and critics savaged her. Is it coincidence that she more or less gave up on her operatic career after that? Oh, the power that critics can despicably wield. . .What did she love about "Carmen?" "Oh," said Ponselle, "I suppose because she's a bit barbaric." Yes, like critics! Here is a screen test that Ponselle did for "Carmen" around 1938.
First:
"Les tringles des sistres tintaient" (or "chanson boheme"),
Setting: The inn of Lillias Pastia
Synopsis: With her friends Frasquita and Mercedes, Carmen sings a wild gyspy song about dancing and seduction to the joyous tavern crowd.
https://www.youtube.com/watch?v=Y_wmjUk234s
Translation:
http://www.aria-database.com/search.php?individualAria=1188
Second:
"L'amour est un oiseau rebelle" (Habanera.)
Setting: A square in Seville
Synopsis: After appearing out of the cigarette factory, Carmen seductively sings about love and its unpredictable actions.
Translation:
http://www.aria-database.com/search.php?sid=2&X=30&individualAria=42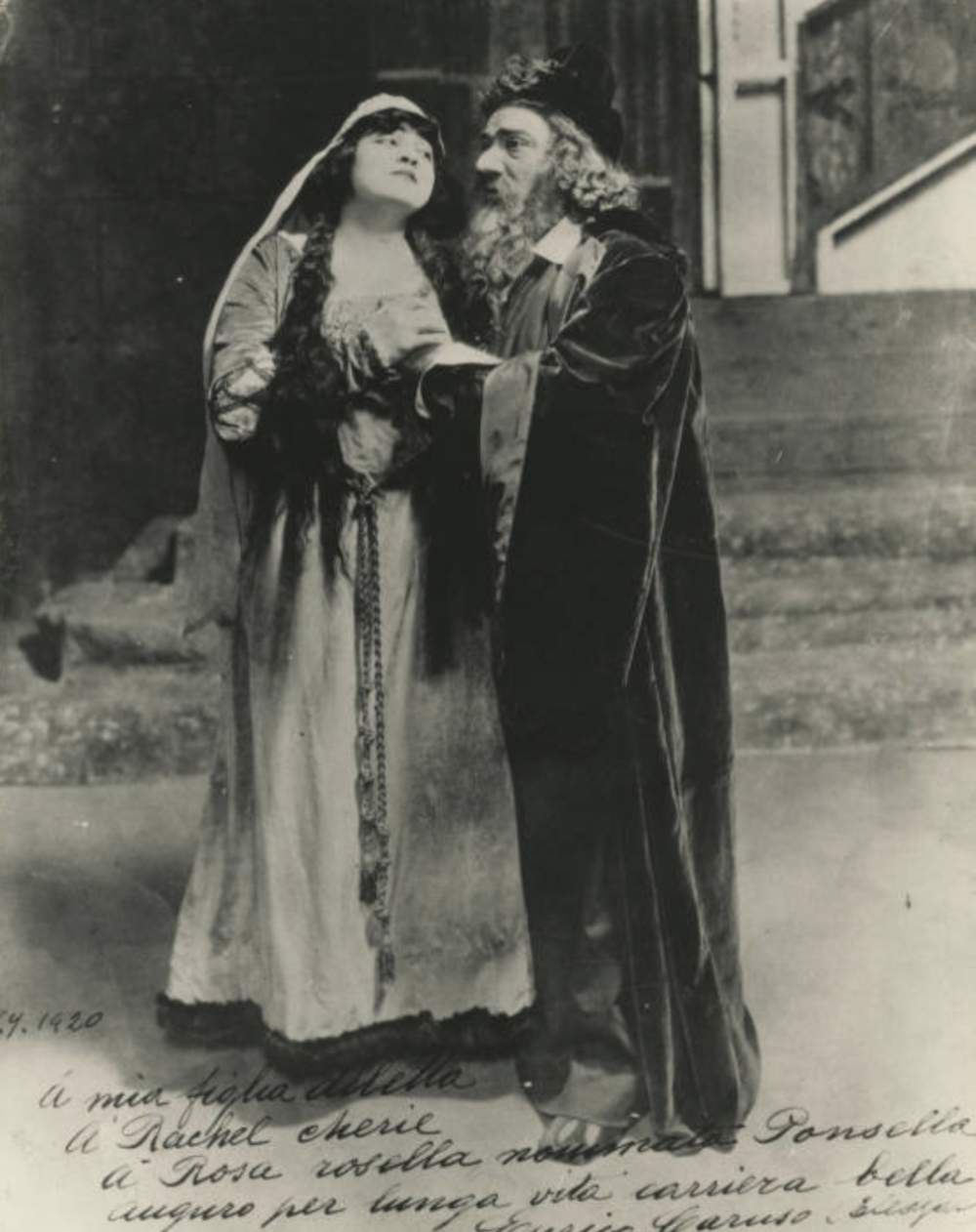 Rosa Ponselle and Enrico Caruso in "La Juive," by Halevy
8.
Rosa Ponselle (originally Ponzillo) used to sing at brief intermissions during silent films, while the projectionist changed reels. Reely. Meanwhile, her big sister, Carmela, worked as a cabaret singer in Meridian, Connecticut. This was in the teens, and yes, there apparently were cabarets in Meridian! The daughters of Italian immigrants, Carmela was a kind of "full-figured" mezzo, and her little soprano sister a beauty with a fashion model physique. Between 1915 and 1918, The Ponzillo Sisters (also known as "Those Tailored Italian Girls") starred on the Keith Vaudeville Circuit, singing traditional ballads, popular Italian songs, and operatic arias and duets. Here is something they certainly did together at that time: the "barcarolle" from "Tales of Hoffmann," by Offenbach. "Belle nuit, ô nuit d'amour," or "Lovely night, oh night of love."
https://www.youtube.com/watch?v=oAUZ2Kdtd4Y
Translation:
https://www.opera-arias.com/offenbach/les-contes-d%27hoffmann/belle-nuit-(barcarolle)/
And, for those who might prefer a better-recorded version:
https://www.youtube.com/watch?v=hqK15-1rz6Y
9.
The prolific opera composer Jules Massenet wrote a little music for a French drama, "Les Érinnyes," by one LeConte DeLisle. He later set that music as a song, "Elegie," with words by one Louis Gallet. It is a touching paean to spring, and times that will not return. "O sweet springtimes of old verdant seasons /You have fled forever. . ." Here sung in 1926 by Rosa Ponselle.
https://www.youtube.com/watch?v=TjgxOxdSBSU
Translation:
https://www.lieder.net/lieder/get_text.html?TextId=5863
FINAL BOW:
To go out on a light, cool note, here is Ms. Ponselle with the Neapolitan chestnut, Paolo Tosti's ode to a kiss, "A Vucchella." Yes, it is usually sung by tenors, but why? With English subtitles.
https://www.youtube.com/watch?v=AX0AK2_iUDU
More about Rosa Ponselle:
https://en.wikipedia.org/wiki/Rosa_Ponselle
Saturdee Opry Links ENCORE!
It's The Ponzillo Sisters, together again! Rosa Ponselle and big sister Carmen, singing, you know, that song. The one I most often use as an encore. "What a wonderful thing is a sunny day! / But another sun, even more beauteous, oh my sweetheart /My own sun, shines from your face!"
(Rosa sang the opening verse, Carmela sang the second verse, and Rosa led the refrain throughout the recording.)
https://www.youtube.com/watch?v=ZsZSgpKQpfQ