Saturdee Opry Links # 96: Gentle Edition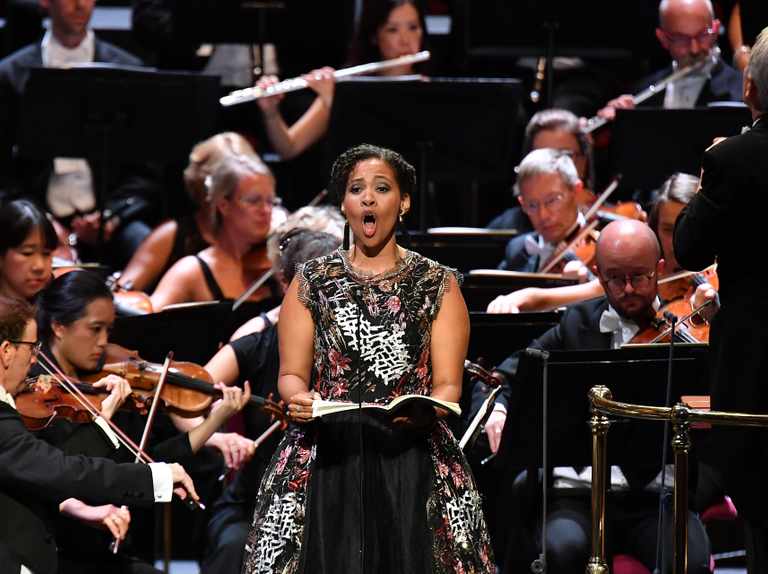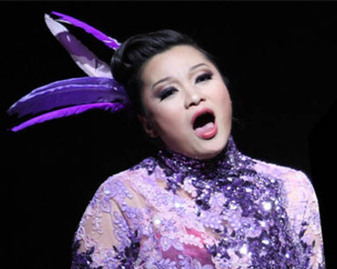 Golda Schulz Yin Huang
Saturdee Opry Links Overture!
Was trying to think of something hellish, to go with the weather. Well, Don Giovanni is dragged down to Hades at the end of this Mozart opera, so that seems just about right.https://www.youtube.com/watch?v=cNJKeBEzWC0

1.
On this brutally hot day, full of fire and catastrophe---and me tortured from no sleep---thought it might be nice to deal only in gentle, beautiful operatic fare. Something to sooth the aching, cramped synapses, or at least mine. Something about flowers, perhaps. . ."Se come voi piccina" ("If I were small and fragile like you, wild flower. . ") From Puccini's early opera, "Le Villi," here sung about as exquisitely as it can be sung, by Monserrat Caballe.
Setting: A town in the Black Forest during spring
Synopsis: Anna puts her bouquet from her engagement celebration in Roberto's luggage. He is about to leave to go to Mainz where he has been left a fortune. She hopes that he will think of her when he looks at the flowers.
https://www.youtube.com/watch?v=BSmeSfwmGgc
Translation:
Se come voi piccina io fossi, o vaghi fior,
If I were tiny like you, or a wild flower
sempre sempre vicina potrei stare al mio amor.
I could always be close to my love
Allor dirgli vorrei: "Io penso sempre a te!"
Then I would like to tell him: "I'm thinking of you!"
Ripetergli potrei: "Non to scordar di me!"
I could be able to repeat to him: "Don't forget about me!"
Voi, di me... piu felici, lo seguirete, o fior;
You, who are happier than me, will follow him, or flowers,
per valli e per pendici seguirete il mio amor.
in the valleys and on the slopes, you will follow my love
Ah, se il nome che avete menzognero non e,
Oh, if the name you have is not lying,
deh! al mio amor ripetete: "Non ti scordar di me!"
then repeat to my love: "Don't forget about me!"
2.
As we know (don't we?), "Che Gelida Manina," from Puccini's "La Boheme," is duly regarded as the "greatest" love aria in all opera. Some might quibble, but it would be splitting hairs. Yet in terms of poetry and confessing innermost feelings, the counterpart soprano aria in response, "Mi Chiamano Mimi," is a very close second. As grand and almost deluded as "Che Gelida Manina" is, "Mi Chiamano Mimi" equals it, but with a more delicate kind of sensibility. It is, after all, sung by a fragile woman whose greatest love in life is embroidering flowers. Why? As she explains:
I am happy and at peace
and my pastime
is to make lilies and roses.
I love all things
that have gentle sweet smells,
that speak of love, of spring,
of dreams and fanciful things,
those things that have poetic names ...
Do you understand me?
To Mimi---and, really, for the story of "La Boheme"---there is nothing more important than spring time. As she further sings:
I stay all alone
there in a white room
and look upon the roofs and the sky
but when the thaw comes
The first sun, like my
first kiss, is mine!
Buds in a vase...
Leaf and leaf I spy!
That gentle perfume of a flower!
But the flowers that I make,
Alas! have no smell.

Here is "Mi Chiamano Mimi" ("my name is Mimi"), sung for you here by the late Mirella Freni, who was widely regarded to have been perfect for the role. (With English subtitles.)
https://www.youtube.com/watch?v=yTagFD_pkNo
Translation:
https://www.liveabout.com/mi-chiamano-mimi-lyrics-and-text-translation-724019
3.
There probably is no more beautiful entrance in all of opera than Cio-Cio San's ethereal appearance in act one of Puccini's "Madama Butterfy." Here is the film of the opera, with a literal depiction of the entrance. On stage, it is done in any number of ways, often with transporting artistry. Still, even though the filmed scene is prosaic, Puccini's music takes care of the poetry, and it is remarkably affecting. This is the arranged marriage meeting between the dumb clod, the cad American, Pinkerton, and Cio-Cio San. Little more than a girl, her heart is filled with expectation and love---all of which are tragically crushed later. But for a moment here, she is just short of ecstatic."I am the happiest girl in Japan, indeed the world." This is "Ancora un passo," or "One more step or so. . ." Go to 6:44 in the video, and be amazed at the music. The soprano is Ying Huang.
https://www.youtube.com/watch?v=y_ebmTkOtpQ
Translation:
https://www.opera-arias.com/puccini/madame-butterfly/ancora-un-passo-or-via/
And here is another filmed version, with Mirella Freni, where she appears from out of a mist. . .
https://www.youtube.com/watch?v=EgHOhLrN3eQ
4.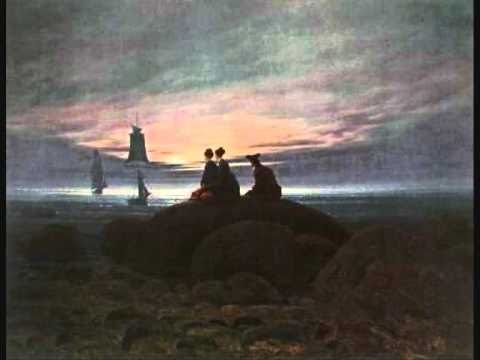 The "Humming Chorus" from Puccini's "Madama Butterfly" just could be the most subtly gorgeous music to sustain protracted attention in all of opera. It depicts Butterfly and her faithful aide, Suzuki, sitting up all night, awaiting the return of Pinkerton from America (bridging acts two and three.) As I could not find an effective clip of a stage production, here are three interesting videos: first, the music with a painting of the scene; second, a concert performance, and third, a fascinating pastiche of early 20th century Japan, long obliterated by war.
1. https://www.youtube.com/watch?v=0f1k14GQmNE
2. https://www.youtube.com/watch?v=4rV0y4syKvQ
3. https://www.youtube.com/watch?v=6oJRrx-PFRo
About the "Humming Chorus:"
https://www.laopera.org/discover/blog/an-inspired-puccini-composes-the-humming-chorus/
5.
As our gentle edition of SOL continues---to great acclaim, as always---here is the sublime "Ach, Ich Fuhl's," from Mozart's "The Magic Flute." "Ah, I feel it. . ." The soprano is the much-in-demand Golda Schulz, in the Julie Taymor Met production.
https://www.youtube.com/watch?v=N_YviDQYxFk
Synopsis: Attracted by the playing of Tamino's flute, Pamina comes and meets Tamino and is hurt when he doesn't talk to her. Little does she know that he is under a vow of silence. Translation:
http://www.aria-database.com/search.php?individualAria=195
About Ms. Schulz:
https://goldaschultz.com/about
https://www.opera-online.com/en/articles/a-conversation-with-golda-schultz
6.
It's possible that Saturdee Opry Links has not posted anything as gentle, wistful as this. In any case, making its debut here is "Les Roses d'Ispahan," which I think translates to "The Roses of the Dishpan," a song by Gabriel Faure. Oh, wait, no, it refers to the capital of the Isfahan Province in Iran, which, one assumes, is or was famed for roses. The poem is by one LeConte Lisle, or is it Lisle LeConte? The soprano is Kathleen Battle, whose incredibly beautiful voice was not equally matched in personality, sad to say, according to most of her colleagues. And yet, such a voice.
Translation:
http://www.melodietreasury.com/translations/song46_Les%20roses%20d%27Ispahan.html?LMCL=MteZxI
https://www.youtube.com/watch?v=k-cyi-4yyFA

The Ishpahan is a type of damask rose, by the way:
https://www.humboldtrose.org/rose_pages/ishpahan.htm
7.
If "The Roses of Ishpahan" did not settle your heat-prostrated nerves a little, maybe this will. It's from a little three-act opera comique by one Ambroise Thomas, "Mignon" (based on a tale by Goethe.) This is "Connais-tu le pays?," which I think means, "Did you try to con your way out of paying?" Oh, wait, no, it means "Do you know the land?"---a poignant, nostalgic, pretty little ditty sung here by Lucile Vignon.
Synopsis: Mignon, stolen from an Italian castle by gypsies as a young girl, tells Wilhelm about her native land, which she knows only in vague memories.
https://www.youtube.com/watch?v=7M_PLBkT82s
Translation:
https://www.lieder.net/lieder/get_text.html?TextId=28121
8.
From a remembrance of a native land to a remembrance of a lost love. . .If you have not heard "Je Crois Encore Entendre" ("I still believe I hear") from "The Pearl Fishers," by Bizet, now is a good to time start. It is a transporting, upper register marvel. Tenor Lawrence Brownlee is one of the much-in-demand voices of recent years, and one can hear why in this rendition.
Synopsis: In the past, Nadir, a fisherman, had fallen in love with a beautiful Brahman priestess named Léïla at a Brahman temple. Now, a veiled priestess has come to his village and he recognizes her as Léïla. He sings of his love for her which has not been diminished by the time they have spent apart.
I still believe I hear
hidden beneath the palm trees
her voice, tender and deep
like the song of a dove. . .
https://www.youtube.com/watch?v=hPuEHXD-jsg
Translation: (with many bonus versions!)
https://medicine-opera.com/2011/09/je-crois-encore-entendre/
9.
To balance out the many female voices today, here is a male who probably counts for several: the late baritone, Dmitri Hvorostovksy. To keep things light, here is a glorious little Neapolitan song classic, "Dictentello Vuje," usually sung by tenor. Or maybe not so light, but it does perpetuate the earlier flower theme. . .
Tell her that she's a rose of May,
That she's more beautiful than a sunny day!
From her mouth,
Fresher than violets,
I would like to hear
That she's also in love with me.
https://www.youtube.com/watch?v=xKppgb2m0bw
Translation:
http://www.napule-de-canzone.co/dicitencello_vuje_eng.html
FINAL BOW:
We've had no duets today, and no trios, so to compensate, here is one of the genius quartets in all opera, "Bella Figlia dell Amore," duly regarded as an epitome of its genre and craft. "Beautiful daughter of love." From "Rigoletto," by Verdi. Would you guess that this gorgeous interweaving of harmony is actually a four-way argument! And here is a wonderful old Vitaphone film of the aria, with the great Beniamino Gigli as the Duke. The quartet---the"Bella Figlia. . ." portion---begins at about 1:45.
https://www.youtube.com/watch?v=lMf8SZQn18k
Synopsis: In spite of everything, Gilda---the secret daughter of the hunchbacked jester, Rigoletto---still loves the womanizing Duke. But Rigoletto wants Gilda to see what kind of man her beloved really is. As they catch the Duke in action, the quartet begins, featuring Gilda, Rigoletto, the Duke and one of his other conquests, Maddalena.
Translation:
https://www.opera-arias.com/verdi/rigoletto/bella-figlia-dell%27amore/

FOR FUN, here is a "pop-up opera" version of it, in a hotel dining room:
https://www.youtube.com/watch?v=8lotOhv2kXY