Saturdee Opry Links # 93: Forgotten Singer Edition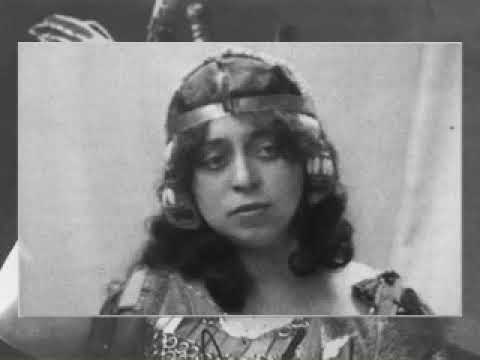 Cora Canne Meijer Magda Spiegel
Saturdee Opry Links Overture.
"William Tell," by Rossini---played by Chinese instrument orchestra. (Incomplete.)
https://www.youtube.com/watch?v=aUc4xtCGczE
1.
Why commemorate an opera singer who died at 91, who is remembered only by operaphiles? Simple. This was a person dedicated to bringing beauty into this vale of tears. The celebrated Dutch opera singer, Cora Canne Meijer, who died Aug. 26, appeared on stages from her 1950 debut with Dutch Opera in Verdi's "La Traviata" to a production of Giordano's "Andrea Chénier" in 1996. She was a favorite "Carmen" during her mostly European career, and one can understand why, listening to this "habanera" ("L'amour est un oiseau rebelle---"Love is a rebellious bird.") This was a dark, creamy mezzo, alluring and commanding. Dank u, Mevrouw.
https://www.youtube.com/watch?v=mdF1s2qNUqY&feature=share
Setting: A square in Seville
Synopsis: After appearing out of the cigarette factory, Carmen seductively sings about love and its unpredictable actions.
Translation:
http://www.aria-database.com/search.php?sid=2&X=30&individualAria=42
2.
Magda Spiegel was an extraordinary contralto. Of course, all contraltos are extraordinary, such is the amazingly deep range of this wonderful female voice. Little can be found about Ms. Spiegel on the Internet, chiefly because she was put to death in Auschwitz in 1944, along with millions of other woebegotten innocents. There are just a few recordings of Ms Spiegel on Youtube, and we are lucky to have any. This is posted in her memory, and in deep hatred of the fiend, Trump, and his enabling and fueling a new rise of anti-Semitism and racial persecution in this society. Ironically, Ms. Speigel excelled as an interpreter of Wagner, which I take as a tribute to her open-mindedness and placing art above human foible. This is an acoustic recording from the '20's of the portentous "Weiche Wotan weiche," from "Das Rheingold," in which Erda, the goddess of the Earth, rises to warn the foolish god-king, Wotan, that his folly and greed presages the end of the universe. (We need her now.)
https://www.youtube.com/watch?v=LU-8kFd7nbE
Translation:
Yield it, Wotan! Yield it!
Flee the ring's dread curse!
Hopeless and darksome disaster
lies hid in its might.
Wotan:
What woman warneth me thus?
Erda:
All that e'er was know I;
how all things are, how all things will be
see I too:
the endless world's all-wise one, Erda,
warneth thee now.
Ere the world was,
daughters three of my womb were born;
what mine eyes see,
nightly the Norns ever tell thee.
But danger most dire calleth me hither today.
Hear me! Hear me! Hear me!
All that e'er was endeth!
A darksome day dawns for your godhood:
be counseled, give up the ring!
3.
Brace yourselves. I found a German bio of the great contralto, Magda Spiegel, and her story is just astounding, and astoundingly horrible. . .Rather than paraphrase it, I will simply print the translation below, which I have rendered more readable without sacrificing accuracy. Here Ms. Spiegel sings the German translation of the aria, "O don fatale," from Verdi's "Don Carlo." This is the poignant tour-de-force, "Verhängnisvoll war das Geschenk." Turn it up:
https://www.youtube.com/watch?v=yc_CottCEE8
Synopsis:
Princess Eboli, lady in waiting to the Queen of Spain, has betrayed her Queen and friend Elizabeth to the Queen---because her advances to Don Carlos have been rejected. In retaliation, Elizabeth gives her the choice of being exiled or becoming a nun. After she leaves, Eboli curses the gift of beauty that she has been given, saying that it has been the cause of all her problems. She swears to save Carlos from the imprisonment that has resulted from her betrayal.
Translation:
http://www.aria-database.com/translations/carlos09_odon.txt
MAGDA SPIEGEL:
Born on November 3, 1887 in Prague, Magda Spiegel studied singing with the soprano Betty Frank (unknown if any relation to Anne Frank) and made her debut at the Deutsches Theater (now the State Opera) in Prague at the age of 19 as Amneris in Verdi's "Aida". She had her first engagement in Mährisch-Ostrau and immediately afterwards she made the leap into a permanent engagement in Düsseldorf, Germany, where she remained from 1910 to 1917. In Düsseldorf she sang 34 different roles, including: Brangäne (Wagner's "Tristan und Isolde"), Azucena (Verdi's "Il Trovatore"), Erda (Wagner's "Das Rheingold"), Martha (Flowtow's "Martha"), Adriano in Wagner's "Rienz." After a guest performance at the Vienna Court Opera, she joined the Frankfurt Opera in 1917. Here Magda Spiegel became a star, the darling of the audience through an astonishing sixty roles.
Magda Spiegel made guest appearances all over the world, but always remained true to her parent company in Frankfurt. When the Nazis came to power, however, the situation deteriorated. When the theaters began to be "cleaned" of Jewish singers, the director and city leaders tried to hold onto her (she had Czechoslovak citizenship). The poor woman first converted to Protestantism, and later even to Catholicism, to avert persecution. It seemed to work, as unlike all other local Jewish singers, she was not banned from performing. But. . .she disappeared from the reviews in the press, and her salary was cut. Despite her audience remaining loyal (including the Mayor of Frankfurt) she was fired in 1934, and suffered a nervous breakdown. She desperately tried to find work in other theaters, to no avail. In 1935, she said goodbye to her audience with her last appearance: Ortrud in Wagner's "Lohengrin," in Frankfurt. There was an enormous outpouring of love for her following the performance.
Since Ms. Spiegel was not allowed to work, she applied for her pension at the age of 48, only to be forced out of her home because it was to be reserved for "Aryans." Brace yourselves:
Ms. Spiegel and many others were lured by the offer to buy a "retirement home" with their savings in a purported "Jew's Paradise" in Theresienstadt. Meanwhile, the Frankfurt Mayor---a great fan---had arranged her exit from Germany, but it was too late. Ms. Spiegel was brought to Theresienstadt with her partner on October 1st, 1942, in the firm belief that she could lead an almost "normal" life there again. The arrival in Theresienstadt must have been a shock, as it, ofcourse, turned out to be a concentration camp and makeshift ghetto---a transit camp. There she was a support and a source of hope for her fellow prisoners, it is reported. When the camp was closed in 1944, she was deported to the Auschwitz-Birkenau extermination camp on October 19, 1944. There she was murdered in the gas chamber of crematorium 3 immediately after arrival.
A bust commemorates Ms. Spiegal in the foyer of the Frankfurt Opera. In front of her apartment at Holzhausenstrasse 16 in Frankfurt, and the Hamburg State Opera are pavement markers in her memory. There is also a Magda-Spiegel Lane in Frankfurt's Kalbach-Riedberg district.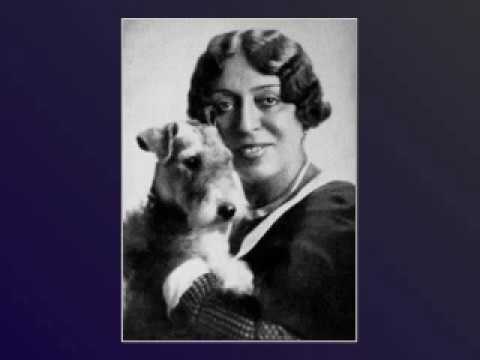 Magda Spiegel and friend.
4.
Continuing with our forgotten singers edition of SOL, here is tenor/matinee idol Gino Sinimberghi with the great aria, "Tu che a Dio spiegasti l'ali," from Donizetti's tragedy, "Lucia di Lammermoor." Matinee idol? Yes, Sinimberghi, whose career lasted from the '30's through the '70's, largely in Europe, was in fifteen films, most---but not all---of which were entire operas. The one thing that jumps right out at you when you hear Sinimberghi's voice is the near-crooning at hand---the gentle, bel canto contour and sweetness. Pretty, in other words!
https://youtu.be/sRAqM8XfdIM
Setting: The Ravenswood cemetery
Synopsis: After learning that Lucia has died, Edgardo is grief-stricken and sings to Lucia that he will soon be with her in heaven. Soon afterwards, he stabs himself and dies beside her body.
Translation:
http://www.aria-database.com/search.php?individualAria=169
5.
Joining the forgotten tenor, Gino Sinimberghi, is the forgotten soprano, Rosanna Carteri, in the unforgettable, almost impossibly beautiful, "Ch' il bel sogno di Doretta" ("Doretta's Dream") from Puccini's near-operetta, "La Rondine." Ms. Carteri, who is still with us at 90, spent her relatively short career (1950's and '60's) in the world's major houses, from La Scala to San Francisco Opera and the Lyric Opera of Chicago, Covent Garden, Paris Opera. She began singing at age twelve in her native Padua, debuting as "Elsa" in Wagner's "Lohengrin" in 1949 at the age of only 19. Here are Gino and Rosanna in 1958, on stage at the Teatro San Carlo di Napoli. (Looks like Gino is really playing piano.)
https://www.youtube.com/watch?v=IZdkn5YQtlg
Here is much better quality footage, but is lacking Sinimberghi at the start:
https://www.youtube.com/watch?v=IsW4QHuN3nE
Synopsis:
At a cocktail party hosted by the courtesan Magda, in her Paris salon, the poet Prunier expounds his theories on love. Magda's friends---Yvette, Bianca and Suzy---playfully mock him, while Lisette, Magda's maid, tells him he does not know what he is talking about. Prunier takes offense and Magda orders Lisette to leave. Prunier maintains that no one is immune to romantic love and sings the first verse of his latest song about Doretta, who rejected a king as her suitor because of the value she placed on true love. He does not know how to finish the song, so Magda takes over and provides the second verse: she recounts how Doretta falls in love with a student.
Translation:
https://lyricstranslate.com/en/chi-il-bel-sogno-di-doretta-dorettas-beautiful-dream.html
6.
Now here's a noble baritone, one Eugenio Giraldoni---the first "Scarpia" in Puccin's "Tosca." No, there are no recordings (apparently) of him as Scarpia, so this will have to do. This is "O vin dissipe la tristesse," from "Hamlet," by Ambroise Thomas, in which Hamlet sings the praises of booze's power to erase heartache. Hear, hear. (It is the opening track on this compilation.) Giraldoni seemed to have little career choice, as he was the son of a baritone and a soprano. He had a prolific career in Europe, South American, and the Metropolitan Opera, but retired to teach (in Finland, of all places) at 49 and died at only 52. Not forgotten here on SOL.
https://www.youtube.com/watch?v=sQ5CSZK464k&feature=share
More about Giraldoni:
https://en.wikipedia.org/wiki/Eugenio_Giraldoni
Translation:
Ò wine, dispel sadness
That weighs on my heart!
To me the dreams of drunkenness
And the mocking laughter!
O enchanting liquor,
Pour drunkenness
And oblivion in my heart!
Sweet liquor!
Life is dark
The years are short;
In our beautiful days
God knows the number
Everyone, alas! Door down here
His heavy chain!
Cruel duties,
Long despair
From the human soul!
Far from us, dark omens!
Ah!
7.
Born in Sicily in 1906, Sara Scuderi spent most of her career in Europe. Somehow she managed to debut at 19 in the heavyweight role of Leonora in "Il Trovatore," usually reserved for an older woman. Go figure. Most of her success came at La Scala, where she was the signature "Tosca" for many years---which became the signature role of her career. You might have seen Ms. Scuderi, believe it or not, if you saw the 1984 documentary about the retirement home founded by Giuseppe Verdi, the Casa di Riposo per Musicisti. In it, she reprised her trademark aria, "Vissi d' arte" ("I lived for art") from "Tosca," at age 87. Here is Ms. Scuderi singing this aria in her prime, followed by the clip of her singing it---quite splendidly---at Casa di Riposo.
Synopsis:
Tosca has just agreed to sexual blackmail in exchange for the life of her beloved, the imprisoned Cavaradossi. She asks God what the hell is wrong with him.
Translation:
http://www.aria-database.com/translations/tosca02_vissi.txt
"Vissi d'arte":
https://www.youtube.com/watch?v=5tyRKwyZ9SY
And at age 87!
https://www.youtube.com/watch?v=vx4S1cjWEhU
8.
And here is an encore from our initial forgotten soprano of the day, Cora Canne Meijer, who passed away two days ago at 91. I can't get her voice out of my head. (Whether you take that as a recommendation or not is your choice.) Here she is with the beguiling seguidilla from her signature role, "Carmen" (start at 3:10, ends at 7:06.) I regret that I do not know the name of the tenor who has some small conversation with "Carmen" along the way. This is "Pres des remparts de Seville," or "Near the ramparts of Seville." What male could listen to this and not be wrapped around Carmen's little finger?
https://www.youtube.com/watch?v=8oyuLABlixo
Synopsis:
After Carmen is arrested for fighting another girl in the cigarette factory, Don Jose is assigned to watch her. She sings that she wants to go to her friend Lillias Pastia's inn and insinuates that she would like him to go with her.

What the hell is a seguidilla, anyhow?
https://en.wikipedia.org/wiki/Seguidilla
Translation:
https://www.opera-arias.com/bizet/carmen/pres-des-remparts-de-seville-(seguidilla)/
9.
Aprille Millo is anything but forgotten, but I am including her here because she is so badly missed. (And will be forgotten, soon enough.) This was one absolutely stupendous singer, a spinto (lyric soprano able to soar above the orchestra on the big notes) who absolutely defined Verdi roles for about twenty years until a vocal injury early in this century. Think: the female equivalent of Pavarotti (with whom she often starred.) Her voice simply commands attention for beauty, purity of tone, and power. In 2018 she was awarded the coveted Lifetime Achievement Award, The Verdi D'Oro, by the Amici di Verdi of Busseto, Italy---one of only 14 people to receive it in its 46-year history. (Past recipients include: Renata Tebaldi, Carlo Bergonzi, Luciano Pavarotti, Placido Domingo.) The great singer developed a deviated septum which shook her confidence and led to her disappearance from the stage eleven years ago. An attempted comeback in 2019 revealed a capable voice that simply was unable to live up to its previous skill. Here she is in a boffo performance of "Pace, pace, mi dio," from Verdi's "La Forza del Destino."
Setting:
Outside the cave where Leonora has come to live out her remaining days in repentance.
Synopsis:
Leonora calls for peace from God on her tortured soul. She still loves Alvaro after all these years, and calls upon God to end her suffering.
https://www.youtube.com/watch?v=f1EtAVmiQOk
http://www.aria-database.com/search.php?individualAria=121
FINAL BOW:
Wonderful, sadly forgotten Gino Sinimberghi with that big aria you all know, perhaps too well. A sunny, gleaming, heartening performance.
https://www.youtube.com/watch?v=tnw8CBSb6Wc
Setting: The gardens before the walls of Peking
Synopsis: A herald has just announced that no one will sleep in the city of Peking until the Calaf's name is known to the Princess. Calaf, who knows that he has agreed to be killed if Turandot learns his name before the morning, is not worried. He is sure that he will be the only one to reveal his name to the Princess and he will only do that once morning has come and the Princess has consented to be his wife.
Translation:
http://www.aria-database.com/search.php?individualAria=318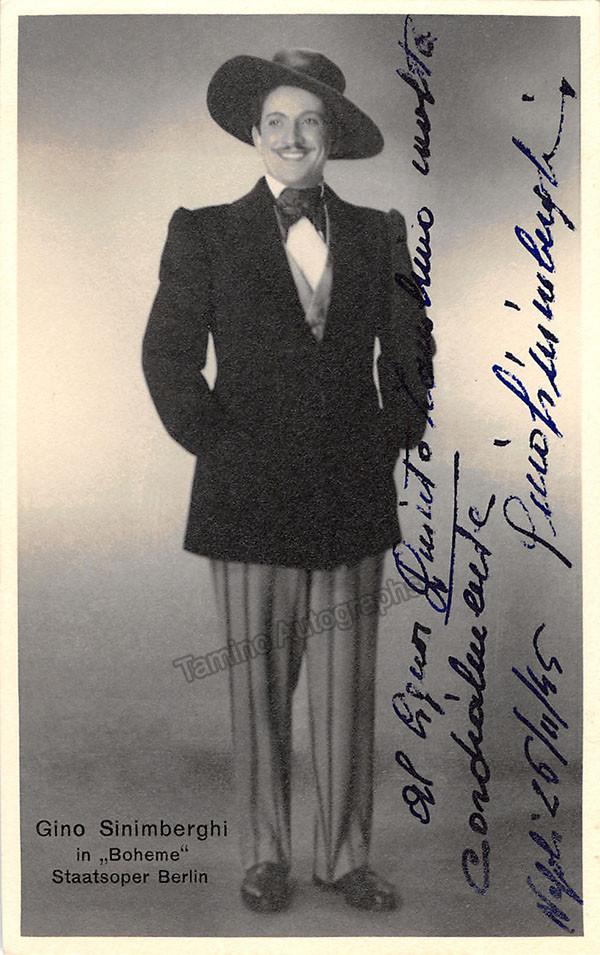 Saturdee Opry Links ENCORE!
Gino again---singing winningly about the roses of Florence, but in German!
Here is "Wenn in Florenz die Rosen blüh'n" (1940)
(Translation unavailable.)
https://www.youtube.com/watch?v=I_Pl9D3JHoQ