Saturdee Opry Links # 92: One-hit Wonder Edition
Saturdee Opry Links takes a little look at the "one-hit wonder" operatic composers, Ruggiero Leoncavallo and Pietro Mascgani. Accelerated heartbeats! Fun! Hormonal secretions! Although both composers wrote many operas, they are quite unjustly known for only one, today. Plus: Leoncavallo had the misfortune to write his own version of "La Boheme" a year after Puccini, which is like Fred Kaps following the Beatles on The Ed Sullivan Show. Plus: a cappella overture, a cappella encore, ten wondrous selections! Extras! Factoids! Cesar Romero!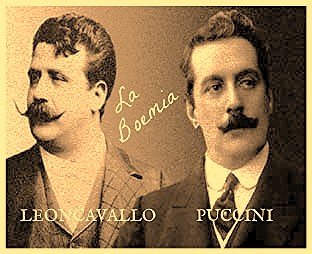 "Boheme" rivals: Ruggiero and Giacomo Composers Three: Alberto Franchetti, Pietro Mascagni, Giacomo Puccini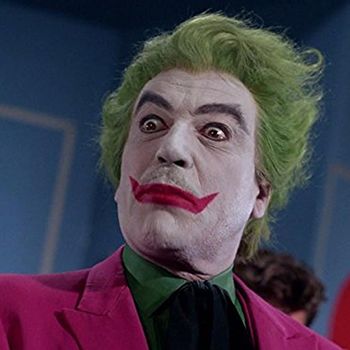 Cesar Romero


Saturdee Opry Links Overture!
A cappella "Magic Flute!" (Mozart.) Tehran Choir.
https://www.youtube.com/watch?v=-9DHDHTD0sU
1.
Pietro Mascagni knew his way around a tune. Maybe some of it rubbed off from Puccini when they were roommates (see link below.) Here is a goodie, a love song from "Cavalleria Rusticana," done with Italianate ardor by Giuseppe di Stefano (before the cigarettes, booze, and women.)
https://www.youtube.com/watch?v=-SH_30Wf_rA
Setting: Easter Sunday in a Sicilian village, Italy, late 1800s
Synopsis: From offstage, Turiddu sings to his love, Lola, of her many virtues and what he would go through to be with her.
Translation:
https://www.opera-arias.com/mascagni/cavalleria-rusticana/o-lola-ch%27hai-di-lattl-la-cammisa/
Saturdee Opry Links EXTRA:
Puccini and Mascgani: Bohemian Roommates:
https://www.operanorth.co.uk/news/puccini-and-the-bohemian-life/
2.
Yes, there are two "La Boheme's." One is a perfectly fine opera by Ruggiero Leoncavallo, and the other by a cigar-chomping guy who liked ladies and fast cars, Giacomo Puccini. One is probably the most performed opera in history, and one is one of the least performed operas in history. (You can figure out which is which.) To make matters worse for Leoncavallo (author of the perennial great, "Il Pagliacci"), his version came out a year after Puccini's (1897). Talk about a hard act to follow. . .Yet, as I said, it's a perfectly good little opera, and here is a perfectly good little aria from Leoncavallo's overshadowed "Boheme." (Note at about 2:30, a melodic line suspiciously similar to a melodic line in Puccini's "Boheme," I think early in act four.) This is "È Destin! Debbo andarmene? Coraggio!" from the forgotten "Boheme," in which Musetta sits down to write a farewell note to Marcello. The soprano is Frederica von Stade. The more you listen to this aria, the better it gets. . .
https://www.youtube.com/watch?v=Eshwv7pXjlo
Translation:
"It is destined! I must go ... Courage! Ah, poor Marcello! Even if I were to withdraw today, would I perhaps have the strength to suffer tomorrow? It is a hell of a life! No! I can not stand it anymore! the best is to finish! (she sits at the table with determination and writes saying the sentences) My Marcello! ~ Don't wait for me, I go out and I don't know if returning I will torment my hunger, and to distract myself on the boulevards I go wandering away. (Looking a little towards the window) and it seems that in my insane mind advice comes to whisper Go! ... if the lace didn't cost so much! ... If certainly at least the bread was every day ... Now I wouldn't write you with this cry , yet I give you goodbye like this! "
Saturdee Opry Links EXTRA!
From the Internet:
At first, his colleague, Leoncavallo, offered him the libretto, but Puccini, probably thinking that it couldn't be good enough, declined it, and suggested that he set it to music himself. That was exactly what Leoncavallo did, and this led Puccini to decide to compose the opera after all. Although Puccini had a comfortable life at Torre del Lago, and enjoyed the companionship of his friends in the village - they founded the "Club la Bohème" - the composer worked as quickly as his librettists did. The opera was premiered before Leoncavallo's. Although Puccini preferred a more famous conductor, he accepted Ricordi's recommendation of a young musical director of the Teatro Regio, Arturo Toscanini. The premiere was a success, but not so great as "Manon Lescaut". The critics gave this opera a cool reception. Nevertheless, the public took to La Bohème more and more enthusiastically with each performance and finally the maestro triumphed with the production in Palermo. This opera was acclaimed in the biggest theatres of the world within two years, even if it took a few seasons longer to become established in Vienna. Gustav Mahler, who had just joined the Vienna Court Opera as conductor, was sent to Venice in May 1897 to hear the world premiere of Leoncavallo's and a performance of Puccini's Bohème. He reported back to the director of the opera that Puccini's version was by far the better of the two works ("One measure of Puccini is worth more than all of Leoncavallo"), however director Jahn was on good terms with Leoncavallo and had already decided to produce Leoncavallo's version. After Mahler took over as director of the Court Opera, he produced Puccini's Bohème in 1903.
https://www.oocities.org/airepuccini_english/BIOGRAPHY.html

Saturdee Opry Links Extra!
A little about Leoncavallo's "Boheme," with links to major arias.
https://medicine-opera.com/2015/06/leoncavallos-la-boheme/
3.
Ruggiero Leoncavallo wrote eleven operas, but today is known, quite unjustly, only for one: "Il Pagliacci." (Though he is also known for the captivating Neapolitan song, "Mattinata!") That's the way the uvula vibrates, I guess. Huh? What'd he say? Well, "Pagliacci" is, of course, best known for the heart-rending, "Vesti la Giubba," but also for its extraordinary beginning, "Si Puo," in which one of the principle characters, Tonio, introduces the story to the audience. Yet it's not merely an introduction---it's also a plea for understanding that the feelings actors invest in their roles are just as real and taxing as "real" feelings. How novel! Here is the great Leonard Warren, the man whose voice Tony Randall famously described as "spreading like liquid smoke," with "Si Puo."
Synopsis : Tonio steps out in front of the curtain apparently in the middle of the overture to explain why the composer wrote the opera as he did. He then goes on to say that the story that the audience is viewing is not merely a play, but a real story with actors that have real feelings.
So you will see love,
as real as human beings' love:
You will see the sad fruit of hate.
You will hear agonies of grief,
cries of rage and bitter laughter!
https://www.youtube.com/watch?v=1wiwYVL_GCU
Translation:
https://www.opera-arias.com/leoncavallo/pagliacci/si-puo-signore-signori/
4.
Like Leoncavallo, Pietro Mascagni is today basically a one-opera wonder. Never mind that he finished a whopping fifteen. That opera is, of course, "Cavalleria Rusticana," though two others, "Iris," and " L'Amico Fritz" are still performed in Europe occasionally. I'm just willing to bet that some of the remaining twelve works are worth performing, and undoubtedly contain some lovely arias. Consider: this beautiful aria, from "L'Amico Fritz," certainly can't be a fluke. This is "Son Pochi Fiori," or "Just a few flowers. . ." The soprano is wonderful Anja Harteros, who, before COVID, had returned to her career after nobly taking years off to nurse her seriously ill husband.
https://www.youtube.com/watch?v=HtW4IJlRdg8
Setting: The dining room of Fritz's house, Alsace, late 19th century
Synopsis: As Suzel gives Fritz flowers as a present, she sings a song to him about them.
Translation:
http://www.aria-database.com/search.php?individualAria=688
5.
Right. I'm one of those Puccini guys. I see his astonishing melodies as damn near unsurpassable for their sheer beauty and capacity to move and inspire. Yet it is unfair to assess everything in comparison to everything else, as opposed to simply accepting art as it is. Right? Still, I have to divorce my Puccini prejudice when listening to many other operas, and I find that when I do this, the rewards can be great. Here is one such example: the aria, "O amore, o bella luce del core," from "L'Amico Fritz," by Mascagni. I listened once, twice, and wanted to hear it again. Of course, Pavarotti helps.
Setting: The dining room of Fritz's house, Alsace, late 19th century
Synopsis: Beppe has just told Fritz of his problems in love in order to cheer him up. However, Beppe's confession does just the opposite and makes Fritz realize that he has no hope of breaking free of a love that he cannot have.
https://www.youtube.com/watch?v=grJCmD_3w7I
Translation:
O love, o beautiful light of the heart,
eternal flame, which the world has in itself.
Sad caress, happy pain,
life is in you!
Bland is the light that falls at night,
the mighty sun shines each,
your ray also shines on everyone,
light of the heart!
Oh! Shine, eternal clear face,
spread yourself, o heartbeat generator!
Oh! Sing, sing the hymn of peace,
life is love!
6.
Leoncavallo's "Boheme" is more dramatic, some might say melodramatic, than Puccini's. Where Puccini's poignancy is never separate from the endless, glorious melody, Leoncavallo's work is more like a play with music---and with stark, stand-out moments. Here is one. It is late on Christmas Eve, and the poet, Rodolfo, is alone in his Parisian garret. He knows Mimi is deathly ill, and he sits, writing, in agony---eventually reading aloud his verse. The great bass, Ettore Bastianini, sings "Scuoti o vento fra i sibili," or "Who knocks on the door at this hour?" Note how the music skillfully sets the mood, prior to the harrowing singing. The verse (below) is a conversation between Rodolfo and Death. (Do I hear a similarity in melody between this and Turridu's aria from "Cavalleria Rusticana?" See first post of the day.)
https://www.youtube.com/watch?v=-HWLxPYKKEM
Translation:
RODOLFO:
Who knocks at the door at this hour?
Glory, come and open!
Go away: in my house again,
lying larva, dare you come?
Pen, it is I,
I am the Wealth,
of your beautiful self I can still kiss and caress you.
Go, you can't make me love you! (He rises little by little, animating himself)
I am the art, the Poetry!
I want to give you immortality!
Peace alone I long for.
And you, go away, the heart does not have more illusions. Open the doors to me because you crave peace
It is I, I am Death and I can heal all your sorrows!
Note: Here is the description of the scene, right from the libretto:
Fireplace off, right; iron bed in the bottom on the right. Entrance door at the bottom left. Window closed with glass mended with paper, on the left in front. In the middle a table covered with books and papers and on which a two-spouted oil lamp burns. Rodolfo is sitting, writing at the table, in a large old leather high chair. Some straw chairs here and there. When the canvas is raised you can hear the rumbling of the wind.
7.
In act four of Puccini's "La Boheme," Rodolfo and Marcello lament the loss of their wonderful times with Mimi and Musetta. The music is relentlessly touching and beautiful, always beautiful. The equivalent scene in Leoncavallo's "Boheme" comes at the end of act three, and finds Marcello in deep despair. He sings one a hell of an aria, "Testa Adorata," far more nakedly emotive and verismo than Puccini. Amazing how this same scene could have such different atmospheres in the hands of two different composers. Well, it's your lucky day. I'm going to give you both scenes here, for comparison. This is quite unfair for various reasons, beginning with Puccini's being a duet, and Leoncavallo's equivalent scene carried alone by the tenor. But what the hell. First, here is tenor Angelo LoForese singing the wrenching, "Testa Adorata" from Leoncavallo's "Boheme." (Translation below.)
https://www.youtube.com/watch?v=QCReJ61ikt8
And here are tenor Neil Shicoff and baritone Thomas Allen with the touching, astonishingly lyrical "Oh, Mimi, tuo piu non torni" ("Oh, Mimi, you are not coming back") from Puccini's "Boheme." (Translation below.)
https://www.youtube.com/watch?v=5mOfer4z460
Which do you prefer?
"Testa Adorata" translation:
https://genius.com/Andrea-bocelli-musetta-testa-adorata-englisch-lyrics
"Oh, Mimi, tuo piu non torni" translation:
https://www.opera-arias.com/puccini/la-boheme/o-mimi-tu-piu-non-torni/
Saturdee Opry links EXTRA:
Obituary for LoForese, who passed away this year at 100!
https://operawire.com/obituary-tenor-angelo-loforese-dies-at-100/
8.
You might know some of Mascagni's music, specifically the lush, deeply affecting "Intermezzo" from "Cavalleria Rusticana" ("Rustic Chivalry.") Think not? Well, have you seen the great film, "Raging Bull?" Then you've heard the Intermezzo, because it is the film's theme music. Mascagni also used this wondrous music for the stand-alone aria, "Ave Maria." Not to be confused, of course, with Schubert's beloved setting of "Ave Maria." Here is the aria, sung exquisitely by Montserrat Caballe.
https://www.youtube.com/watch?v=Vkh0zhhuaq4
Translation:
https://en.wikipedia.org/wiki/Sancta_Maria_(song)
And here is the Intermezzo:
https://www.youtube.com/watch?v=7OvsVSWB4TI
Saturdee Opry Links EXTRA!
Mascagni at the piano, playing the theme from his now forgotten opera, "Nerone."
https://www.youtube.com/watch?v=sFzbZE4vhUE
9.
One free-standing song by Mascagni deserves one free-standing song by Leoncavallo. No, not "Mattinata," for which he is duly famous! This is the fine little tune, "April," an exaltation, really, on the arrival of spring. I'll give you your choice of tenor or soprano here, as I'm feeling magnanimous today. The Swiss tenor, Fausto Tenzi, still with as at 81, in a splendid performance:
https://www.youtube.com/watch?v=PoiSKMkBuyQ
And the tragically late Daniela Dessi, who passed away in 2016 at only 59.
https://www.youtube.com/watch?v=nMQFEAQghps
Translation:
https://www.lieder.net/lieder/get_text.html?TextId=92220
About Ms. Dessi:
http://danieladessi.com/en/biography/
FINAL BOW:
And so our little foray into works by the great operatic composers Ruggiero Leoncavallo and Pietro Mascagni---whose operas are largely neglected today---ends with the most famous of all their arias, Leoncavallo's "Vesti la Giubba," from, of course, "Il Pagliacci." Need I point out that it is duly venerated as one of the greatest arias ever written?
Setting: The entrance to a village, Calabria, Italy, 1860s
Synopsis: Canio, the head of a traveling acting troupe, sings that although his love, Netta, has betrayed him, and his heart is shattered, he must go on with the show. "Vesti la Giubba," or "put on the make-up.") (If you guessed that this ends badly, you are catching on to opera!) Here is Mario del Monaco, chewing up the stage in Japan in 1961.
https://www.youtube.com/watch?v=aYywvcW29mk
And here is---alas, no footage---the great, great Franco Corelli in an utterly astonishing performance:
https://www.youtube.com/watch?v=RaOtgD0xxy4

Saturdee Opry Links EXTRA!
Riddle me this, Batman! What old movie star sang excerpts from "Pagliacci" on your show? Cesar Romero!
https://www.youtube.com/watch?v=1O9f-CiRk_4
Saturdee Opry Links ENCORE!
A cappella, here is Mario Lanza with Leoncavallo's immortal Neapolitan song, "Mattinata" ("Morning.") "The dawn, dressed in white, has already opened its door to the sun. . ."
https://www.youtube.com/watch?v=FBrSDOt8-Ro
Or, if you prefer him with orchestra:
https://www.youtube.com/watch?v=-PR5Tvl5fFs
Translation:
https://www.lieder.net/lieder/get_text.html?TextId=10075