OPRY LINKS 21: Pioneering African-American Sopranos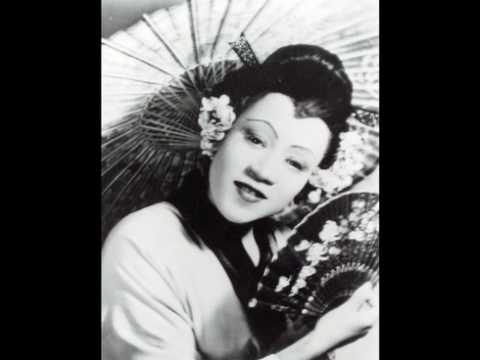 Camilla Williams Williams as Cio-Cio San in "Madama Butterfly." Would the politically correct reactionaries dare to
criticize her for having appeared in "yellowface." Nah, they'd just blame the "evil white establishment"
for "forcing" her to do it. Never mind it's just innocent stage make-up to facilitate role playing. . .
Saturdee Opry Links Overture!
"The Barber of Seville." Rossini.
(Made famous by the closing credits of "Help!")
https://www.youtube.com/watch?v=Ys6Kq6Li0L8
P.S.
https://www.youtube.com/watch?v=FZMt0Qnz4ro



1.
When you think of the first great African-American operatic singer, you might think of Marian Anderson (though, lacking acting training, she sang mostly recitals.) Or you might think of Mattiwilda Dobbs, the first African-American woman to sign a long-term contract with the Met. Or you probably will think of mighty Leontyne Price, who starred at the Met for decades after her momentous 1961 debut. But Camilla Williams might not come to mind, despite the fact that way back in 1946, she became the first African-American to sing with a major company----the New York City Opera, where she assayed "Madama Butterfly" by Puccini. Her reviews were great, and she went on to sing often with NYCO through 1954, subsequently Europe (where she became the first African-American to sing at the Vienna State Opera.) She never did sing at the Met, sad to say, and her performance career gradually turned to that of educator (largely at Indiana University.) There seem to be very few recordings of her---and almost none on Youtube, astonishingly---not even a recording of Gershwin's "Porgy and Bess" from 1951, for which she is best known. Here is an excellent mini-documentary about Ms. Williams.
https://www.youtube.com/watch?v=JHEM5-tTPE0

2.
This is the lone opera recording of Camilla Williams available on Youtube. It's not an SOL favorite, as it is a sort of melodramatic series of declamations by Verdi, but you get a good sense of her voice. (Of course, you might love it.) This was a lyric soprano, decidedly sweet in tone, often light---not really a heroic Verdi voice, but full of ardor. It is much easier to imagine her as "Butterfly," or "Mimi" (from Puccini's "La Boheme"), which are both friendly to smaller voices, and were roles for which she was duly known. Still, she acquits herself nicely here. This is "Ritorna Vincitor" from "Aida."
https://www.youtube.com/watch?v=iuyLIkCxiFo
Setting: A hall in the Palace of the Kings at Memphis.
Synopsis: Radamès, whom Aida is in love with, has just been given a rousing send-off to engage the Ethiopians in battle. Aida is torn between her home-land, family and the man she loves - Radamès.
Translation:
http://www.aria-database.com/search.php?individualAria=5

Here is Ms. Williams' 2012 NYT Obit:
https://www.nytimes.com/2012/02/03/arts/music/camilla-williams-opera-singer-dies-at-92.html

3.
Here is the rich contralto of Marian Anderson---whose voice was in evidence so early in life that she was known as "Baby Contralto" at Union Baptist Church in Philadelphia, at age six(!). As her family could not afford to give her voice training, she was tutored at the church, where, remarkably, she learned to sing parts written for bass, alto, tenor, and soprano. Here she sings the haunting, lovely "Casta Diva," from Bellini's "Norma," from an old radio broadcast. Prepare for transport.
https://www.youtube.com/watch?v=xPGEiWAPm1M
Setting: Night in the Druid's sacred forest, Gaul, around 50 B.C.
Synopsis: The Druids have come to meet with Norma, their high priestess. They want to revolt against their Roman oppressors but Norma convinces them that their time to rise up has not come yet. The Romans will be defeated by their own failings. Norma then invokes the moon and prays for peace. While the chorus of Druids sings their derision for the Romans, Norma sings her cabaletta, privately worrying that that the hatred for the Romans must also translate to hatred for Pollione, her secret Roman lover.
Translation:
http://www.aria-database.com/search.php?individualAria=356

4.
Marian Anderson's story has quite properly ascended into myth. You know it: Famed in Europe, where she toured in the '30's, she was little known in the U.S.. When she tried, in 1939, to rent a concert hall in Washington, D.C.'s Constitution Hall---owned by the Daughters of the American Revolution (DAR)---she was refused because of her racial background. There was widespread protest, and First Lady Eleanor Roosevelt (and many others) immediately resigned from the DAR in protest! Arrangements were subsequently made, with help from President and Mrs. FDR, for Anderson to appear at the Lincoln Memorial on Easter Sunday of the same year, and she drew an audience of 75,000. On January 7, 1955, she became the first African American singer to perform as a member of the Metropolitan Opera in New York City. As she took the stage, even before she began to sing her role of Ulrica in Verdi's "Un Ballo in Maschera" ("A Masked Ball"), she was given a standing ovation. Here is part of her debut from that very night, Ulrica's aria---moody, then triumphant---live at the Met. (The tenor you hear briefly is Jussi Bjorling.)
Setting: Ulrica's hut near Boston, late 17th century
Synopsis: Ulrica calls upon the King of the Abyss to enter her dwelling so she can do his bidding.
https://www.youtube.com/watch?v=oTUfEcTRzIY
Translation: https://lyricstranslate.com/en/re-dellabisso-affrettati-king-abyss-make-haste.html

5.
Mattiwilda Dobbs was the first African-American singer to perform at La Scala, the first to receive a long-term performance contract at the Metropolitan Opera, and the first to play a lead role at the San Francisco Opera. Dobbs grew up in Atlanta, singing in church and community choirs, and won a number of scholarships, including, poetically enough, the Marian Anderson Award, in 1947. She moved to Europe in 1950 and studied with one Pierre Bernac, renowned interpreter of French art songs (she would later perform recitals chocked full of Debussy, Milhaud, etc.) Dobbs, whose parents were leaders of the African-American community in Atlanta, adamantly refused to perform for segregated audiences throughout the south, which cost her a pretty penny, not incidentally. When the Atlanta Municipal Auditorium was de-segregated in 1961, she was the first person to sing to an integrated audience in the city's history. Here she is with the delightful "Doll Song" from Offenbach's "Tales of Hoffman," live at the Met in 1959. Pity there is no footage of this, so we could get a sense of her stage presence and comic acting. In this scene, a "mad scientist" has invented a life-size singing doll. Problem is, she keeps winding down in the middle of her tune. (You will hear her being wound up again from time to time.) This is "Les oiseaux dans la charmille" ("The Birds in the Trees.")
Setting: The parlor room of Spalanzani the scientist, 19th century
Synopsis: Spalanzani the inventor winds up Olympia the doll to sing for his guests. She sings this song about the birds and how they sing of the young girl of love.
https://www.youtube.com/watch?v=iVXTW9pGu9c
Translation:
http://www.aria-database.com/search.php?individualAria=364

6.
Here is Ms. Dobbs (love her first name, Mattiwilda) with a coloratura extravagance by Verdi, and though I lack the expertise to explain, she brings a lot of extra interpretation and attitude to it---in addition to artfulness and grace. Quite extraordinary. This is the gorgeous "Caro Nome," from Verdi's "Rigoletto." I doubt you will hear it sung more charmingly, exquisitely. It's possible you will never hear anything sung more charmingly, exquisitely. Really. A hit!
Setting: The house of Rigoletto
Synopsis: After the Duke in the guise of a poor student named Gualtier Malde has seduced her, Gilda sings of her new-found love.
https://www.youtube.com/watch?v=Krl6nYnjcTA
Translation:
http://www.aria-database.com/search.php?individualAria=261

7.
Leontyne Price
Our little survey of African-American sopranos continues with the greatest of them all, Leontyne Price, still with us in her 90's as of this writing. Every one of the sopranos showcased here came from similar simple beginnings. Ms Price was born in Laurel, Mississippi, where her dad worked in a lumber mill and her mom was a midwife who sang in the church choir. The couple waited 13 years for a child, and Leontyne became their greatest focus. She began piano lessons at age three, using a little toy piano, and when she was in kindergarten, her parents traded in the family phonograph as the down payment on an upright. At 14, Leontyne was taken on a school trip to hear Marian Anderson sing in Jackson, an experience she later said was tremendously inspiring. Her voice is a luscious, hefty spinto (lyric soprano with ability to push above the orchestra on big notes.) It inspired all manner of effusive praises from critics, such as "genuinely buttery, carefully produced but firmly under control", with musical phrases that "took on a seductive sinuousness." It was said she could "soar from a smoky mezzo to the pure soprano gold of a perfectly spun high C." (Time Magazine.) Certainly true. Here she is in a just astonishing reading of "Visi D'Arte" from Puccini's "Tosca." This is a real treasure, as it comes from a private video recording, date, time and place unknown---and it is just flooring. Tears and goosebumps, people. (Note: she follows it with other selections, which I will describe in the next post.)
Setting: Scarpia's study.
Summary: The fiendish Scarpia has just extracted a promise of sex from Tosca, in exchange for her lover's life. She asks God why she is punished so, when she has been good and God-fearing. "I Lived For Art."
https://www.youtube.com/watch?v=BzzzvqNpgUk
Translation:
http://www.aria-database.com/search.php?individualAria=302

8.
Same video, different arias. This is just an "oh, my" all the way. Beginning at 3:25, here is Ms. Price with the wistful, piquant "Doretta's Dream" from "La Rondine," by Puccini. It is followed by a far more dramatic aria, from "Madama Butterfly," that inspires (genuine) gasps and cries from the audience. This is as sensational as singing gets, people, period end of story. The "Butterfly" aria is "Tu, tu piccolo Iddio" " in which Cio-Cio San learns that her husband, Pinkerton, has married again. Consumed with despair and about to kill herself, she tells her son that he will never remember her or remember that she died for him. Think it is easy to sing these two arias after one another? Following "Visi d'arte?" (See previous post.) Uh-uh.
https://www.youtube.com/watch?v=BzzzvqNpgUk
Translation:
"Chi il bel sogno di Doretta"
https://lyricstranslate.com/en/chi-il-bel-sogno-di-doretta-dorettas-beautiful-dream.html
"Tu, tu piccolo Iddio"
https://www.opera-arias.com/puccini/madame-butterfly/tu-tu-piccolo-iddio/


EXTRA: Leontyne Price Becomes Movie Star at 90
https://www.nytimes.com/2017/12/22/arts/music/leontyne-price-met-opera.html


9.
Not sure how to follow those Leontyne Price encores, but. . .
When the great conductor, Leopold Stokowski invited Shirley Verrett to sing with the Houston Symphony in the early 1960s, he had to rescind his invitation when the orchestra board refused to accept an African-American soloist. (Texas---feh. I wouldn't set foot there with your feet.) Stokowski later made amends by giving her a prestigious date with the much better known Philadelphia Orchestra. . .Ms. Verrett was born in New Orleans, but largely raised in Los Angeles, where she (you guessed it) sang in church. She married briefly and---get this---sold real estate in the San Fernando Valley in the early '50's. Really. A realtor! Lucky for us, she continued private vocal training and managed to enroll at Julliard, leaving the Valley far behind. In 1961, she won the Metropolitan Opera National Council Auditions, and went on to a long, spectacular career---despite wrestling with lifelong allergies. Here is her deep, near-contralto voice intoning the only good thing in "Samson and Delilah" by Saint-Saens (in my arrogant opinion), "Mon cœur s'ouvre à ta voix." "My heart opens to your voice." Yes, it certainly does.
Setting: the valley of Soreck, ancient Palestine
Synopsis: In an attempt to close the trap which she has set for Samson, Dalila tells Samson seductively that she will surrender herself entirely to him if he wants her. She begs him to respond to her caresses, hoping that he will finally forget about the Israelite rebellion he is leading against the Philistines. If Samson concentrates completely on her, the High Priest of Dagon may be able to capture him.
https://www.youtube.com/watch?v=sq3H42NjmIU
Here is the same aria, in a better performance, but poorer video:
https://www.youtube.com/watch?v=54ekFtVgFk8
Translation:
http://www.aria-database.com/search.php?individualAria=916

Scroll down for Ms. Verrett's full bio:
https://shirleyverrett.com/


FINAL BOW:
The great Shirley Verrett sings "Mild und Leise," Isolde's crushing benediction and death scene, from "Tristan und Isolde," by Wagner. A concert performance with the great interpreter of German romanticism, Zubin Mehta, conducting in 1977. "Mild and gently, how he smiles. . ." Isolde sings of (and to) her dead lover, Tristan. No, Verrett was not as great as Price (an unfair standard, perhaps), and had to fight through health issues much of her life in order to achieve the greatness she did. I love the ardor and commitment she brings to this singular aria.
https://www.youtube.com/watch?v=ZiPKv8EGaOQ
Setting:Tristan's castle at Karoel, Brittany, legendary times
Synopsis: After Tristan has died, Isolde looks upon him in a trance. She believes that she sees her beloved coming back to life as she hears a lovely melody around her. The hallucinations become stronger and stronger until, at last, she falls down dead next to Tristan.
Translation:
http://www.aria-database.com/search.php?individualAria=989

Ms. Verrett's obituary:
https://www.nytimes.com/2010/11/06/arts/music/06verrett.html