Saturdee Opry Links is/are back again for all to ignore---especially seeing as, today, the selections are half Wagnerian heaviness, and half terribly sad Puccini laments (for soprano.) Music appropriate for our time! All for free! Or your money back! Let's see if we can break our record from last week, when only two or three people paid the slightest attention!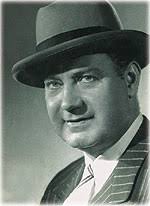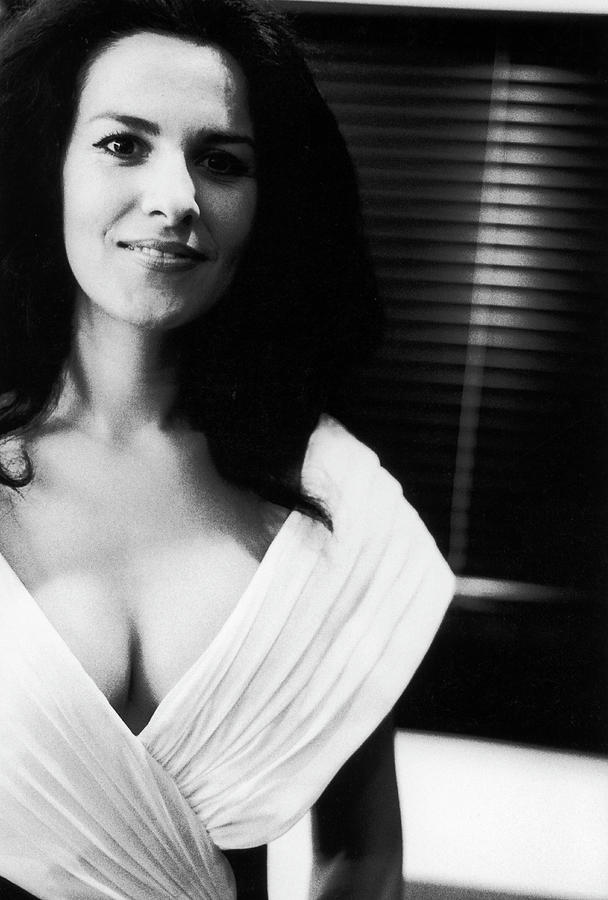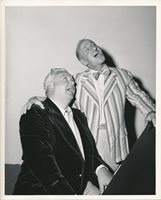 Sandor Sved Angela Gheorghiu Lauritz Melchior (with Jimmy Durante)
Saturdee Opry Links Overture!
"William Tell," by Rossini.
Well, sort of.
https://www.youtube.com/watch?v=GUBhE00h9U0
For purists:
https://www.youtube.com/watch?v=qOofwWT3Edc
1.
Here is a fairly stunning performance of the mysterious "In Fernem Land" from Wagner's "Lohengrin," as sung ardently, dramatically by Jonas Kaufmann. "In a far away land"---just where I'd love to be these days, instead of this deconstructing, acrimonious society. Well, opera is a sort of far-away land that one can visit---and even live in, if you are dedicated enough. So let Kaufmann transport you to the myth of Lohengrin, a knight of the Grail who may do good in the world---as long as no one knows his identity. You know, like Clark Kent. Pssst, ladies---don't ask his name, whatever you do.
Setting: a plain on the banks of the Schelbt, Antwerp, first half of the 10th century
Synopsis: To this point, the Knight has not been allowed to tell his name or his origin. However, he now must leave because he has killed Frederick, the Count of Brabant, and now reveals his past. He is a Knight of the Grail from the island of Montsalvat and his father is Parsifal, the leader of all the Knights of Grail who strive to do good in the world as long as no one knows their secret. He finally reveals that his true name is Lohengrin. And then returns to Montsalvat, riding a giant swan.
https://www.youtube.com/watch?v=x6GJDyYClSY
Translation:
https://lyricstranslate.com/en/fernem-land-gralserz%C3%A4hlung-far-and-away.html
2.
Elsa and Lohengrin are married, but. . .what kind of a marriage is this, she asks, where I can't even know my husband's name? Whose name will I shout in the throes of passion? Bozo the Clown? Trump? Lohengrin reluctantly, out of love, reveals his name to her (see previous post, "In Fernem Land"), dooming him to leave her and return to his duties with the Knights of the Grail. Why? It's a myth, folks. But wait---there's more! The ending of this opera is, shall we say, complicated:
As Lohengrin sadly bids farewell to Elsa, the swan that he swanned in on reappears. (Yes, swan!) Lohengrin tells Elsa that if she had kept her promise, she could have recovered her lost brother (long story), and gives her his sword, horn and ring. As Lohengrin tries to board the swan, so to speak, the manipulative shrew, Ortrud, appears. She tells Elsa that the swan is actually Gottfried, Elsa's brother (!), whom she cursed to become a swan. (True.) The people accuse Ortrud of witchcraft---a rather reasonable conclusion, I must say. Lohengrin prays---and bingo, the swan turns back into young Gottfried! Tricky, these swans. Lohengrin declares Gottfried the Duke of Brabant, and a DOVE descends from heaven, leading Lohengrin back to the castle of the Holy Grail. Elsa is stricken with grief and falls to the ground, dead. (This happens a fair amount in opera.) Hell, they could have called this thing "The Birds."
Anyhow, here is the very moving, rousing aria, "Mein Lieber Schwan," in which Lohengrin beckons his ride home. Incidentally, I have much in common with Lohengrin. These days, I am wondering where the hell my swan is to get me outta this awful place. . .
(Aria starts after the 1:00 mark.)
https://www.youtube.com/watch?v=o8LeQmhO1JM
Translation:
My dear swan!
Oh, this last sad trip
how I would have spared you!
In a year if your time
should end in service -
then, freed by the power of the Grail,
I wanted to see you differently again!
O Elsa! Just a year at your side
I longed for as a witness to your happiness!
Then blessedly returned to the Grail's escort,
your brother again, whom you thought dead.
Will he come home when I'm away from him in life
this horn, this sword, you shall give him the ring.
This horn is supposed to help him in danger,
in a wild struggle this sword gives him victory;
but with the ring he should remember me
who once freed you from disgrace and need!
Farewell Farewell Farewell, my sweet wife!
Farewell I'm angry with the grail if I still stay!
Farewell, farewell!
Original German:
http://www.aria-database.com/search.php?individualAria=879
3.
Current events put me in a Wagner state of mind. You know, self-pitying, full of Weltschmerz, sturm und drang, weh. Can't help it, it's partly in my blood. I do think the world is in cataclysm even now, however slow motion. So this "ode to an evening star," from "Tannhauser" somehow seems to emphasize the right priorities. To hell with this human-made madness, in other words, and all blessings on the natural world. This is "O, du Mein Holder Abendstern," or "Oh, my glorious evening star."
The great Welsh baritone, Bryn Terfel. "Dusk covers the land like a premonition of death. . ." Have a ball!
Setting: the valley of the Wartburg, near Eisenach, early 1200's
Synopsis: As the night falls, Wolfram sings an ode to the evening star.
https://www.youtube.com/watch?v=RRu-aRFEsAc
Translation:
https://www.oxfordlieder.co.uk/song/1393
4.
Posting Wagner in SOL is a lot like having "$20 coffee day" at Starbucks. But what the hell do I care? It's the end of the world! Yes, I do believe I posted a version of this recently, so here is the aria so nice you get it twice. Why? Because of the terrific, forgotten baritone, Sandor Sved, who does the melodic honors. It's a song of farewell, and to that extent is apt, considering we are collectively saying farewell to the ecosystem and, in all probability, our country. So get in the tragic spirit, throw back a couple of slugs of gin, and crank up "Wotan's Farewell" from Wagner's fabulous opera, "Die Walkure."
The plot: Brunhilde, the Valkyrie (winged woman goddess-warrior, whose primary task is to carry slain soldiers to heaven) has disobeyed Daddy (Wotan.) He has given her orders, against his will but at the persuasion of his awful stick-up-the-ass wife, appropriately named Fricka---and spunky Brunhilde, who has a real aversion to unreasoning authority (bing!), instead does what she knows her pops really wants. Got it? Well, Wotan is severely pissed. After all, who disobeys the ruler of the universe? So he tells his favorite daughter he is stripping her of goddess-hood, and abandoning to the (ewwww) human world. She pleads with him to stop, and he compromises. He will de-godify her yes, but he will place her on a high mountain, surrounded by a magic fire that only the greatest of heroes will dare to cross. Got it? He sings of his great love for his daughter, kisses her eyes into a hypnotic sleep, then summons Loge, god of fire, to do the torching honors. Here we go with one of the most moving, poignant, dramatic moments in all opera. . ."Leb' wohl, du kühnes, herrliches Kind!" It also contains one of the most beautiful, affecting orchestral passages in all music.
https://www.youtube.com/watch?v=uf60DYpvThU
SUMMARY, TRANSLATION:
Farewell, thou valiant, glorious child!
Thou once the holiest pride of my heart!
Farewell! farewell! farewell!
(very passionately) Must I forsake thee,
and may my welcome
of love no more greet thee;
may'st thou now ne'er more ride as my comrade,
nor bear me mead at banquet;
must I abandon thee, whom I loved so,
thou laughing delight of my eyes?
Such a bridal fire for thee shall be kindled
as ne'er yet has burned for a bride!
Threatening flames shall flare round the fell:
let withering terrors daunt the craven!
let cowards fly from Brünnhilde's rock!
For one alone winneth the bride;
one freer than I, the god!
(Brünnhilde, deeply moved, sinks in ecstasy on
Wotan's breast: he holds her in a long embrace.)
(She throws her head back again and, still
embracing Wotan, gazes with deep enthusiasm in his eyes.)
Thy brightly glittering eyes,
that, smiling, oft I caressed,
when valor won a kiss as guerdon,
when childish lispings of heroes' praise
from sweetest lips has flowed forth:
those gleaming radiant eyes
that oft in storms on me shone,
when hopeless yearning my heart had wasted,
when world's delights all my wishes wakened,
thro' wild wildering sadness:
once more today, lured by their light,
my lips shall give them love's farewell!
On mortal more blessed once may they beam:
on me, hapless immortal,
must they close now forever.
(He clasps her head in his hands.)
For so turns the god now from thee,
so kisses thy godhood away!
(He kisses her long on the eyes. She sinks back with
closed eyes, unconscious, in his arms. He gently bears
her to a low mossy mound, which is overshadowed
by a wide-spreading fir tree, and lays her upon it.)
(He looks upon her and closes her helmet: his eyes
then rest on the form of the sleeper, which he now
completely covers with the great steel shield of the
Valkyrie. He turns slowly away, then again turns
around with a sorrowful look.He strides with solemn decision to the middle of the stage and directs the point of his spear toward a large rock.)
Loge, hear! List to my word!
As I found thee of old, a glimmering flame,
as from me thou didst vanish,
in wandering fire;
as once I stayed thee, stir I thee now!
Appear! come, waving fire,
and wind thee in flames round the fell!
(During the following he strikes the rock thrice
with his spear.)
Loge! Loge! appear!
(A flash of flame issues from the rock, which swells
to an ever-brightening fiery glow.)
(Flickering flames break forth.)
(Bright shooting flames surround Wotan. With his
spear he directs the sea of fire to encircle the rocks; it
presently spreads toward the background, where it
encloses the mountain in flames.)
He who my spearpoint's sharpness feareth
shall cross not the flaming fire!
(He stretches out the spear as a spell. He gazes
sorrowfully back on Brünnhilde. Slowly he turns to
depart. He turns his head again and looks back. He
diasappears through the fire.)

5.
I must apologize to Cola Rienzi for letting the family line down. I am neither noble nor courageous (though I am principled and have a disdain of authority.) And while I hardly trust "the people," I'll take the "common citizen" over those in power, any time. From Wagner's "Rienzi," here is "Rienzi's Prayer," "Allmächt'ger Vater," sung by the greatest Wagnerian tenor who ever lived, Lauritz Melchior. Way back in 1930!
Setting: a hall in the Capitol of Rome, Italy, middle of the 14th century
Synopsis: Rienzi has been excommunicated for leading a force of Roman citizens against the treacherous Roman nobles, prompting everyone to abandon their support of him. On the brink of disaster, Rienzi prays to God that he might be given strength to weather the crisis. He feels that he is doing God's work by empowering the common citizen.
https://www.youtube.com/watch?v=wI9ruwvu9tE
Translation:
http://www.aria-database.com/search.php?individualAria=1269
About Melchior:
https://en.wikipedia.org/wiki/Lauritz_Melchior

6.
Shifting gears from Wagnerian Weltschmerz to the "merely" tragic, just for comic relief. . .Puccini's "Turandot," like "Lohengrin," is another "don't tell anyone his name" opera. In this mythological case, it has to do, more or less, with a bet Calaf makes with the ice queen, Turandot. A bet that means he will die if his name is discovered by the queen. Here, the poor slave girl, Liu, is tortured by Turandot, yet still refuses to reveal her beloved Calaf's name. Turandot asks how this is possible, and Liu replies that it is simply. . .love. Here is Angela Gheorghiu, who, for some reason known only to demographics gods, is preceded by a commercial for John Deere tractors.
https://www.youtube.com/watch?v=Bv2CvONn67M
Translation:
https://en.wikipedia.org/wiki/Tu_che_di_gel_sei_cinta

7.
In honor of the slow demise of our country, and the ecosystem, we continue with laments from Puccini operas. Here, again, is Angela Gheorghiu. I'm a sucker for her singing, which I find emotionally persuasive as well as beautiful, and capable of nuance. And nuance is necessary for this aria, "Se come voi piccina," from the opera, "Le Villi." "If I were tiny, like you, little flower. . ."
https://www.youtube.com/watch?v=ivOgLLswjPE
Setting: A town in the Black Forest during spring.
Synopsis: Anna puts her bouquet from her engagement celebration in Roberto's luggage. He is about to leave to go to Mainz where he has been left a fortune. She hopes that he will think of her when he looks at the flowers.
Translation:
https://www.allthelyrics.com/forum/showthread.php?t=52442?t=52442
8.
Again, here is Ms. Gheorghiu with Puccini. In this case, "Un bel di vedremo," from "Madama Butterfly," in which poor Butterfly sings of the day when her beloved Lt. Pinkerton will return to her, as promised. Of course, this never happens. Ms. Gheorghiu, the Romanian daughter of a seamstress and train driver, became one of the great sopranos in the '90's and through the early teens. She is in her prime here. "One Fine Day. . ."
https://www.youtube.com/watch?v=Yia9JaTxT8E
Translation:
http://www.aria-database.com/translations/butterfly01_unbel.txt
About Ms. Gheorghiu:
https://en.wikipedia.org/wiki/Angela_Gheorghiu

9.
Back to "Turandot." This is the tender, sad plea, "Signore, Ascolta," in which Liu begs Calaf to not get involved with the ice queen, Turandot---in vain, of course. Not out of possessiveness, but out of love, for she correctly fears that any involvement with the queen will cost Calaf his life. Again, Angela Gheorghiu's wonderful interpretation.
https://www.youtube.com/watch?v=FBPDAnepSpc
Setting: The streets of Peking
Synopsis: Liú, Calaf, and Timur are in the midst of a processional to the execution of the Prince of Persia who attempted to win the Princess Turandot by answering three riddles. If he had given the correct answers, he would have married the Princess, but the price for incorrectly answering them was death. During the processional, Calaf catches a glimpse of Turandot, falls in love with her immediately, and decides to attempt to answer the three riddles. Liú sings this aria to beg him not to risk his life for the Princess.
Translation:
https://en.wikipedia.org/wiki/Signore,_ascolta!

FINAL BOW:
Well, I was going to post Gheorghiu doing this, probably the most heartbreaking aria in all Puccini---for its content alone---but then I listened to Callas. As terrific and affecting as Gheorghiu is, Callas just rivets the listener from the first few notes. Astonishing to experience the difference between "great" and "extraordinary," I'd say. So here, from Puccini's short opera, "Suor Angelica," is "Senza Mamma." ("Without a mother.") A devastating song for our devastating time.
Synopsis : After she finds out from her cruel aunt that her child has died while she has been in the nunnery, Angelica laments her baby's death, saying that without a mother, he never had a chance to live.
https://www.youtube.com/watch?v=Z4A4leCgQTM
(And here, also, is Gheorghiu:
https://www.youtube.com/watch?v=1DwnzM8T1TY )
Translation:
http://www.aria-database.com/translations/angelica01_senza.txt
SATURDEE OPRY LINKS ENCORE!
Surprise vocalist!
https://www.youtube.com/watch?v=Sk4S2spFdcs