Saturdee Opry Links # 102: Divertimento Edition!
Saturdee Opry Links dug down deep to come up with FUN STUFF to lighten the spirits. At least it beats hell out such cheap crap as the horrid "Hamilton" and its rap "music." Consider: A singing doll! Nudity! Crazed tenors! Opera buffa! So. . .have a ball! Due to hundreds of complaints about Saturdee Opry Links being "too sad," I have endeavored to make each of today's selections. . .divertimento!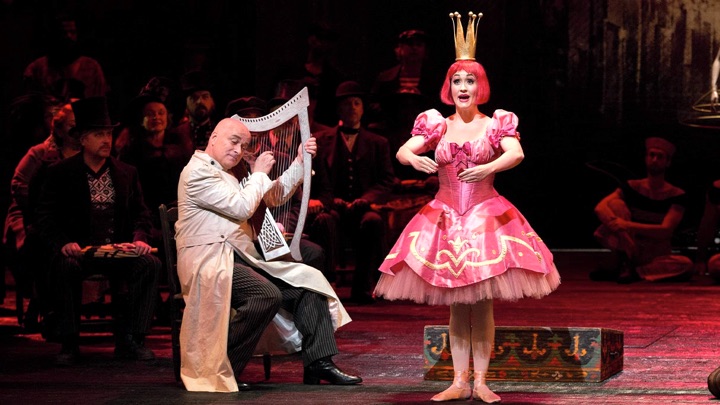 Erin Morley in the Met's staging of "The Tales of Hoffmann," by Offenbach.
Saturdee Opry Links Overture.
The buoyant, sprightly "Abduction from the Seraglio," by Mozart. Makes your dog feel like Rin-Tin-Tin.
https://www.youtube.com/watch?v=GrFbiw77_90
1.
Just to start things on an up note. . ."Say it ten times fast" is an old quip (too old), but seems apt in describing what is going on here in Donizetti's "Don Pasquale." This is a "patter aria," and you will quickly understand why it is so named. "Don Pasquale," by the way, is a wonderful farce with a cuckoo plot involving teaching a lusty old fart a lesson. Here is a brief summary of what takes place in this one little manic patter-passage with Don Pasquale and Malatesta: The doctor moves forward to greet Don Pasquale, who tells him of his fiance, Norina's intended assignation, and his own plan to expose her unfaithfulness before a magistrate. Got it? Malatesta persuades Pasquale to moderate his plan and Pasquale, believing him an ally, consents to his conditions, while plotting his revenge on Norina. (This is about 1/100th of the story.) Anyhow, patter patter patter. . .Here is the pattering part, excerpted:
https://www.youtube.com/watch?v=IDkXJ_bb5qY
OR. . .you may watch a more extended sequence---with English subtitles---with the patter part beginning at 5:40.
https://www.youtube.com/watch?v=vXNjtv-8MDI

2.
Just because the opera is so damn much FUN, here is another harum-scarum excerpt from Donizetti's "Don Pasquale." Basically, this punk, Ernesto, has refused to marry the woman that his rich blowhard uncle, Don Pasquale, has chosen---instead professing his devotion to the young widow, Norina. The Don, in his dismay, proclaims that he will marry again in old age in order to produce a new heir. In this sequence, Norina plots with Pasquale's doctor, Malatesta, to marry the old man. (She later does this, transforming from a docile former nun into the shrew of shrews---driving Pasquale to divorce and to giving his blessings to the marriage of Ernesto and Norina!) Got it? Me, neither! Here, Norina and Malatesta plot their scheme in a crazy-goofy duet. (Incidentally, I've had sex with this soprano many, many times.) And if the opening moments sound suspiciously like "Questa o Quella," from Verdi's "Rigoletto," my money is on Verdi having appropriated it.https://www.youtube.com/watch?v=XGbRsHpoZpE
Translation:
https://www.opera-arias.com/donizetti/don-pasquale/vado-corro/
https://www.opera-arias.com/donizetti/don-pasquale/pronto-io-son/

3.
There's an old song called "Singin' in the Bathtub," but this precedes it by about a hundred years. This is "So anch'io la virtù magica," also from Donizetti's romp, "Don Pasquale"---but updated to the Roaring '20's, and set in, yes, a bathtub. Here Norina brags about the wiley ways of women when it comes to wrapping men around their widdle finger. The soprano is Susannah Biller. FUN!
Setting: Norina's house, Rome, early 19th century
Synopsis: Norina is reading a novel about love. After reading a passage aloud, she explains that she knows all the tricks of ensnaring a man.
https://www.youtube.com/watch?v=1D1SpbEmbow
Translation:
http://www.aria-database.com/search.php?individualAria=553
And if you would like to hear it sung by a more ideal soprano, here is the late, great Lucia Popp. Quite a difference, eh?
https://www.youtube.com/watch?v=-sTUpfI2jBE

(And yes, here is "Singin' in the Bathub:")
https://www.youtube.com/watch?v=1rj5OQirHfY

4.
Posting this strictly for FUN. You remember fun. It's something that used to happen in the 20th century. So many of you---hundreds and hundreds---have complained that the Saturdee Opry Links are always "sad," that your host is endeavoring today to come up with fun fun fun till her daddy takes the T-Bird away. Here is something that is probably more frivolous than fun, but what the hell. You all know "Largo al Factotum" from Rossini's "Barber of Seville," even if you think you don't. (Hint: "FEE-garo, feee-garo, figaro figaro feee-garo!") It is sung by the "topman of the city" as he proclaims his invaluable community status. BUT. . .this is not merely that classic aria, nossir. This is a WONDERFUL thing that Seattle Opera did in order to introduce opera to kids. It's "The Dueling Figaros!" I kid you not. It's a "Figar-off," in which the Factotums split into two topmen of the city, trading the aria's lines with one another. Meet baritones John Moore and Will Liverman!
Have a ball.
https://www.youtube.com/watch?v=UtdVrLAAapg
Translation:
http://www.aria-database.com/search.php?individualAria=30
OR, if you'd prefer to see how it's conventionally done:
https://www.youtube.com/watch?v=-ipb9xbXSAY

5.
Before all hell breaks loose in Puccini's incomparable "La Boheme," there is a bit of fun to be had, as the starving rascals gather for a meager bit of bread and wine on Christmas Eve, there in Rodolfo's drafty garret. A knock on the door heralds. . .gasp. . .the landlord! Benoit! Come to collect god-knows-how-much back rent, the Scrooge! Watch how the bohemians evict this problem. Shakespeare---or W. C. Fields---couldn't have written it better. There's even a spit-take. (English subtitles.)
https://www.youtube.com/watch?v=2zptBSjcTmI

6.
Now, you don't really need a translation for this madcap duet, but I will supply one, anyhow. Here, the foil characters in Mozart's "The Magic Flute," Papageno and Papagena, who might or might not be human, at last find one another and rather insanely declare their j-j-j-joy. With English subtitles.
https://www.youtube.com/watch?v=0PJCnZCSD5o
Translation:
https://www.youtube.com/watch?v=0PJCnZCSD5o
RELATED:
https://www.youtube.com/watch?v=aj1wcFkOT0E&list=RDaj1wcFkOT0E&start_radio=1

7.
One more "Flute" excerpt. A prayer for our time:
Evil men are put to flight
Loss is turned to laughter
when the darkness yields to the light
Happiness comes after!
If only the Queen of the Night had been here to deal with the rabble in the Trump White House. Anyhow, here is the FUN and otherwise delightful finale---with English subtitles, despite being sung in English (two, two, two mints in one!)---from act one of Mozart's "The Magic Flute." Guaranteed to, as The Beatles once sang, "raise a smile." Papageno and Pamima frolic!
https://www.youtube.com/watch?v=bsvJks--Gk0

8.
There are a million comic sequences in opera, but not many really lend themselves to excerpting. They tend to require overall, and sometimes extended, context in order to afford amusement. Such is not the case, of course, with the "doll song" from Offenbach's remarkable collection of short stories involving paramours of the writer, E.T.A. Hoffmann, "The Tales of Hoffmann." This is the charming, and yes, FUN, "Les oiseaux dans la charmille" ("The birds in the arbor.") The soprano is Erin Morley.
Synopsis:
Hoffmann's first love is Olympia, an automaton created by the scientist Spalanzani. Hoffmann falls in love with her, not knowing Olympia is a mechanical doll ("Allons! Courage et confiance...Ah! vivre deux!" – Come on! Courage and confidence ... Ah! to live!). To warn Hoffmann, Nicklausse, possessing the truth about Olympia, sings a story of a mechanical doll with the appearance of a human, but Hoffmann ignores him ("Une poupée aux yeux d'émail" – A doll with enamel eyes). Coppélius, Olympia's co-creator and this act's incarnation of Nemesis, sells Hoffmann magic glasses to make Olympia appear as a real woman ("J'ai des yeux" – I have eyes). Olympia sings one of the opera's most famous arias, "Les oiseaux dans la charmille" (The birds in the arbor, nicknamed "The Doll Song"), during which she runs-down and needs to be wound-up before she can continue.
https://www.youtube.com/watch?v=VXKsOeccz8w
Translation:
http://www.aria-database.com/search.php?individualAria=364
AND here is Sumi Jo in a concert performance of what became a signature role for her:
https://www.youtube.com/watch?v=ALK-e_j91oM
AND FOR EXTRA FUN, HERE IS PATRICIA PETTIBON DOING IT STARK NAKED! (Sort of.)
https://www.youtube.com/watch?v=dG7n0g8mA0w&has_verified=1

9.
"This one or that one," sings the Duke of Mantua in Verdi's "Rigoletto," which is to say, all women delight him! (Not to worry, metoo ladies, he gets his reward for such a cavalier attitude in the end.) But for the nonce, the duke is carefree and having a good old womanizing time, there in 16th Century Las Vegas. What? Eh? Well, Verdi set the thing in the 16th century, but that doesn't stop the poseurs and bozos and idiots of today from swapping it out for Las Vegas in 1960. (Really.) Here is one of the better tenors of our time, Piotr Beczala, with the "opera greatest hit," "Questa o Quella." Slot machines and all. What the hell, it's fun. (Sort of.)
https://www.youtube.com/watch?v=9-zXLKd76fk
Translation:
https://www.opera-arias.com/verdi/rigoletto/questa-o-quella/
OR, if you'd prefer a traditional staging. . .here's Luciano:
https://www.youtube.com/watch?v=4lGOZhnIngE

FINAL BOW:
Promised a fun edition of SOL, and hope it fit the bill. Let's raise a glass, either way. We had dueling Figaros earlier, so here is a sort of "dueling Traviatas." From Verdi's "La Traviata," here is the brindisi (drinking song), with two pairs of singers: Jose Carerras and Katia Ricciarelli---and Agnes Baltsa and Ruggero Raimondi. (Note: Raimondi lost his music, and is left to la-la.")
https://www.youtube.com/watch?v=Ub2tPHJn3CM
And if that wasn't fun enough for you, here is a flash mob version from San Francisco:
https://www.youtube.com/watch?v=bTbmGVEj53E
Translation, setting:
http://www.aria-database.com/search.php?individualAria=311

Saturdee Opry Links Encore!
"What a wonderful thing is a sunny day." Times three!
https://www.youtube.com/watch?v=ZvLZSgP0QMY
About the song, translation:
https://en.wikipedia.org/wiki/%27O_sole_mio