In my veins the blood of oaks
and sycamores; my feet are ferns,
I flow within like vegetable;
I am a grass---I who was amoeba
know I ate the air
before there was a meat
My brain and soul
lie asleep in coal.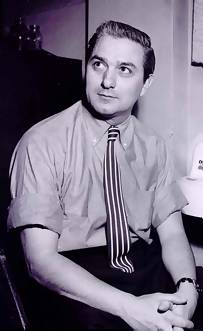 AFR
May 20, 1917--Dec. 27, 1990
Arthur F. Rense was many things. He started out as a poet, and at heart, remained one. Born in Cleveland, Ohio, to Austrian-Italian immigrant parents, he was a graduate of Ohio State University, with a degree in English. He served in the U.S. Coast Guard during World War II, then moved to Los Angeles and joined the original Los Angeles Daily News, the "only Democratic newspaper west of the Rockies," becoming a sportswriter. He covered the Los Angeles Rams in their first years ---the Elroy "Crazy Legs" Hirsch and Norm Van Brocklin era---including their world championship in 1951 (he wears a Rams World Championship watch, presented by the team, in the photo, taken in the Daily News in 1952.) After the Daily News folded in 1954, he joined United Press as a reporter, and later went on to publish and edit a magazine group, including the first devoted exclusively to professional football, The Art Rense Sports Book: Professional Football. In 1959, he began a long career in public relations with the Douglas Aircraft Company, Missiles and Space division (before it became McDonnell-Douglas) remaining there through 1974. He joined Harvey Mudd College in the mid-70s as a public relations specialist, and later teamed with football great Tom Harmon to edit Tom Harmon's Football Today, published in Las Vegas. After that venture folded, he did public relations for the Summa Corporation-owned hotels in Vegas, chiefly the Desert Inn. Art was a great lover of classical music, opera, and history. He was an original thinker of keen insight, wit and charm, and was regarded with enormous affection by all who knew him.